We're in the midst of summer and I definitely have the beach on my mind. I'll need to make a trip out there soon(!) but till then, here are my faves in ethical swimwear-the bikini addition.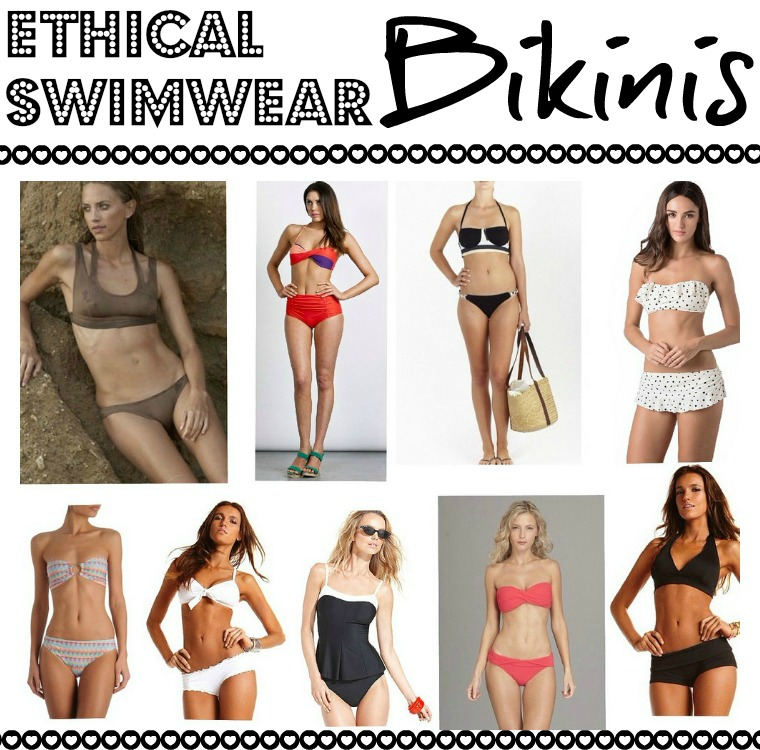 I typically prefer a more covered bathing suit, so if you're looking for teeny bikinis, this is not the place, lol. Maybe that makes me a bit of a prude, but I want to swim(!) and so I like to wear things to the beach that I feel 100% comfortable in!
First Row L-R:
Ailin Cape Regine Bikini-$130 for set: This is the sexiest darn bikini I've seen around. I think it's something about the sportiness and simplicity that and maybe the skimpier bottom that makes it feel just super hot to me. Ailin is a sportswear company made in Canada with a lot of environmental initiatives and an integrity in what they do, you can read more about Ailin here and here.
Miss Bora Bora Bikini from Bombshell Bay–$127 $63.11 for set: I love that this bikini is a definite nod to retro with the high waist but still feels very modern with color and fabric finish. Bombshell Bay is an Australian based company, but they have a low worldwide shipping rate-their fabrics are sourced from Italy and made in highly monitored manufacturers and some are fair trade. You can read more about their practices here.
Matiti Bikini from Lalesso–$152 $58: This suit for me is definitely a nice mix of classic and tribal. I love the shelf bra also a nod to retro bikinis, but done way more current. Lalesso is a fair trade brand made in Kenya by SOKO Kenya. This is not the first mention of SOKO on Made-to-Travel. You can read more about their tremendous work here, they also produce for ASOS Africa.
Polka Dot Bikini from Eco-Swim– $128 $64 for set: I really really love a skirted bikini!!! This one by Eco-Swim is so sweet and charming! Eco Swim is another company with their mind on the environment and made in the USA. Eco Swim was on last year's roundup of ethical swimwear here on Made-to-Travel, you can read more about them here and on Eco Swim's website here. (Image source)
Second Row L-R
Auria X Margot Bowman-$176 (limited sizes): I love this tropical print and the soft pastel tones in this bikini. Auria X Margot Bowman is a swimwear line made in the UK using recycled materials. You can read more about them here.
Salt Creek Bikini by Vitamin A Silver-$112 for set: Nothing says summer to me like white bikini! Vitamin A Silver is the more affordable version of Vitamin A, still made in sunny California out of sustainable fabrics, but a bit more skewed for a younger audience I think. You can read more about Vitamin A Swimwear on Made-to-Travel here and here.
Color Block Peplum Bikini by Eco Swim–$114 $69: Okay…I typically HATE tankinis, mostly because my torso is so short they do nothing for me, but this tankini I had to sneak in! I think the color block is fresh and the suit looks super glamorous :).
Brigitte Collection by Robin Piccone-$152 for set: While I don't wear a lot of pink and red I automatically am drawn to this color family when it comes to swimwear. Robin Piccone's swim line has been around since 1992 and is manufactured in the U.S. I just love the subtle details from the Bigitte Collection and the colors are just gorgeous.
Jet Black Bikini by Vitamin A Silver-$114: When in doubt go for the black one! A classic swimsuit that never gets old. I love the fold-over waist in this bikini, gives it a little sporty modern edge.