Like I said in my ethical bikini post, I like to be a little more covered on the beach, so naturally I am a biiiiiiig fan of one pieces and I'm happy that now more than ever there are really super hot ethical one pieces available! Here are just some of my faves…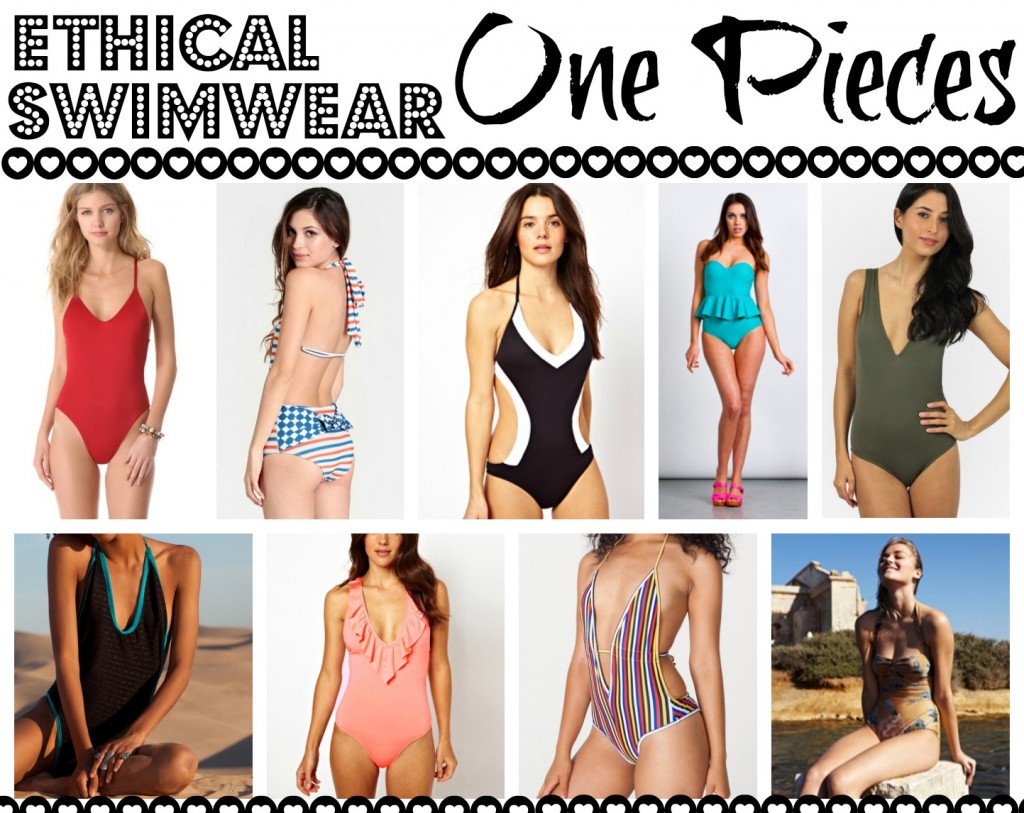 First Row L-R
Red One Piece by Norma Kamali-$150: I think this Norma Kamali suit could be a go-to suit for years-simple, classic and sexy.The famed designer Norma Kamali's long-standing goal has been to make women feel beautiful and Kamali is also a strong believer in keeping her manufacturing right here in the US :).
Americana Suit by Beach by Riot–$136 $95: I looooooove this swimsuit by Beach Riot! The front is super simple and the back is super sexy. I love party in the back! This swimsuit is also lovingly made in the USA. (image source)
Splice Cutaway by Baku-$152.73: I really like how modern this swimsuit looks. Black and white has been all the rage since Spring and I feel like this graphic combo isn't going anywhere. Baku prides itself in being a homegrown brand designed and made in Australia.
St. Tropez by Bombshell Bay–$159 $99: I totally love the peplum on this Bombshell Bay one piece, but I love it even more because it's REMOVABLE! Also if this bright turquoise is a bit loud, there are quite a few colors and patterns available…Love options, options, options :).  Bombshell Bay made it onto this years ethical swimwear bikini roundup, you can read more about this ethical Australian swimsuit company here.
Anonyme by Drifting Arrows -$213: You really need to see the side view of this suit…it is sexy-town USA! My favorite thing about this one piece are the colors it comes in. While I tend to gravitate towards brights for bathing suits, I'm really digging the earthy and neutral colors available in this suit, like the moss green shown above and also the navy. You can see all the colors here on Drifting Arrows site. The fabric is from Italy and the suit is cut and sewn in the USA.
Second Row L-R
Custom Brazilian Swimsuit By Curlee Bikini-$245: OKAY! I know this is a bit more high end than I usually go here on Made-to-Travel, BUT it is custom! I have a very short torso so it makes me really happy that there is a place where they will hand make a swimsuit just for me! Curlee Bikini are made in the US and also use environmentally friendly materials such as vintage fabrics or new materials that are naturally made and dyed.
Weekend Frill One Piece by Zinke-$178: So I'm not the biggest fans of ruffles in actual clothing that I wear, but I adore them on swimwear. This ruffle adds a little something sweet to a super sexy plunging neckline. Zinke is another great brand that is made in the USA.
Maillot V-Swimsuit by American Apparel-$48: Plunging necklines are pretty much my favorite neckline in one pieces, I think because it adds a lot of hotness in a one piece. This stripey number from American Apparel has lots of color and vertical stripes are always great to make give the impression of length (much needed for me!).
San Vito Swimsuit by Plumo–$183.33 $100.44: I love this vintage inspired swimsuit at Plumo. The colors seem really fresh to me while the pattern and cut look totally classic. Plumo strives to work with cooperatives and independent designers around the globe. They have AMAZING things! You can read more about their ethics here.