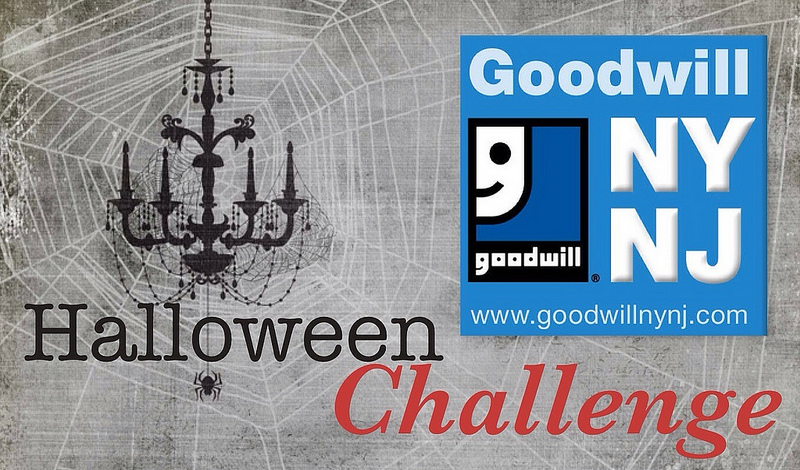 Hi friends! You know that I'm a huge crazytown fan of Goodwill! Goodwill is by far one of my favorite places to shop (evidence, evidence), but more importantly I really admire the tremendous good they do in the communities they serve (evidence, evidence).
So what is the Goodwill Halloween Challenge?- Find items for your costume for under $30 at any local Goodwill. I LOVE Halloween and love Goodwill so this was really a project made in heaven :).
(photo sources: risky business, pulp fiction, breakfast at tiffany's)
White Shirt Costume Ideas
Tom Cruise,

Risky Business-Add some socks & enthusiastic dancing.
Uma Thurman, Pulp Fiction-Add Black pants, dark lipstick, bobbed hair & cool girl dancing.
(photo sources: golden girls, miss cleo, dynasty, florence welch, married with children)
Dated Dresses
Golden Girls-Grab 3 friends, add big clip-on earrings, nude tights, tease your hair into a fro and add gray.

Miss Cleo

-Add a turban (diy here), tarot cards or crystal ball, make a sign with 800 number and carry around a phone.
Dynasty– Grab some friends, add blingy jewelry & teases hair.
Florence Welch, Florence + the Machine-Add mic, red hair & milkmaid braid (diy here).
(photo sources: dita von teese. betty and veronica, joan holloway)
Basics-Pencil Skirt + Blouse or Tee
Dita Von Teese

-Add red lipstick, fishnet stocking, long gloves & old Hollywood wave.

Betty & Veronica

-Grab a friend, add quote bubbles, ponytails and bangs.
Joan Holloway, Mad Men– Add clip on earrings & pen on a necklace.
(photo sources: miss piggy, the ring, carrie)
Girly Dresses
Miss Piggy

-Add snout, ears, blonde hair, glove & pearls.
Creepy Crawling Girld, The Ring-Add some dirt and shred dress a bit, comb hair over your face, & pale out your skin.

Carrie

– Add lots and lot and lots of fake blood.
(photo sources: betty boop, pretty woman, hunger games)
Red Dress
Betty Boop

-Pin hair to shape, add gold hoop earrings & jewelry, fishnet stockings, garter and black & white dog.
Julia Roberts, Pretty Woman-Add white gloves, costume jewelry + necklace case, laugh hysterically all night long.
Katniss, Hunger Games-Add bronze makeup, tulle corsage, and mockingjay pin.
So what Halloween Costume did I choose?
I've had a crush on this Lichtenstein girl costume for YEARS now, ever since I saw this amazing version of the costume. So I chose the red pencil skirt and the white men's dress shirt from my potential costume picks, added a thought bubble made from paper, pipe cleaners, and a headband, donned a pair of heels to finally make the costume I dreamed of :).
I initially painted my face white like my inspiration costume, but didn't really like the effect on me (I may be too olive or something), so I decided to just lighten my face a bit with baby powder then added loads of red dots with lipstain and a q-tip, then outlined my features with a black liquid eyeliner pen. Important note: Makeup came off really easily. I also added some pipe cleaners in my hair opposed to using a wig-thought it added to that drawn look.
So friends, do you know what you're going to be?!?! Did you get any inspiration from here!?
(Disclosure: Goodwill NY/NJ provided clothes for participating in the Goodwill Halloween Challenge-note to reader)