So friends most of you know I celebrated a birthday recently…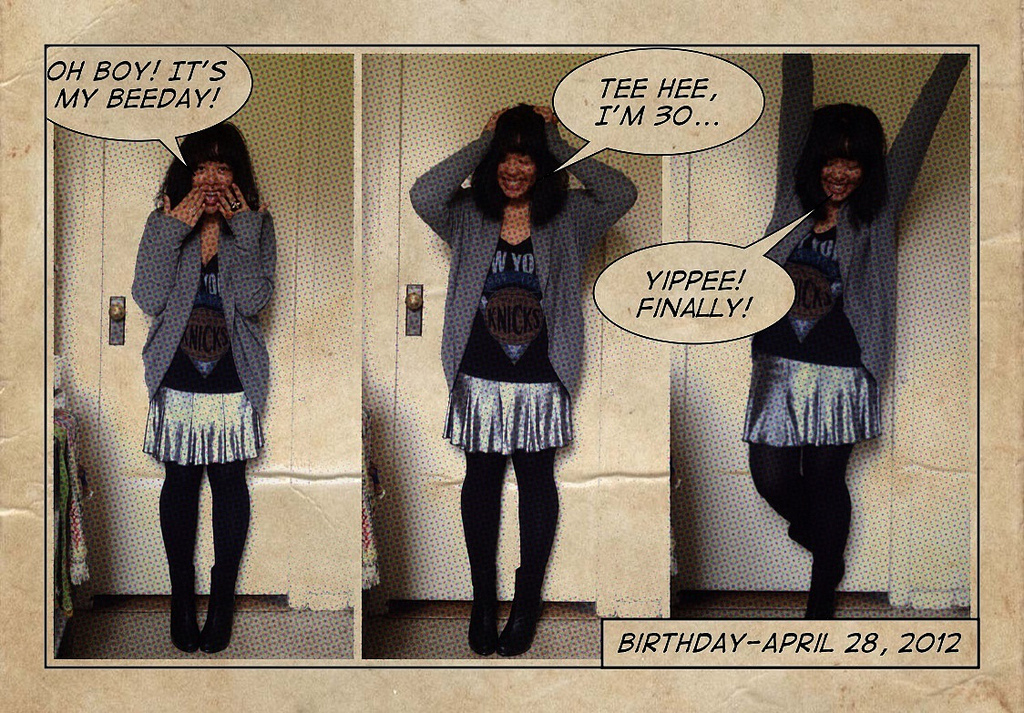 That is right! I turned the big 3-0 :D. I was really looking forward to turning 30; the journey of my 20's has really felt long (in a good way). Graduating college, trying out lots of media fields, and then slowly working my way to become a professional, and confident in what I do. There were just so many changes, I felt I lived two lives within my 20's; so I have to say it's kind of a relief.  For all you kids, 30 is a happy place and definitely on the short list of best birthdays ever for me.
(boots-cri de couer via loving eco/jp selects; skirt-thrifted via cause for pawz; knicks tank-gift from bf; sweater-i no longer shop here; rings-made her think and gifted)
Two things happened on April 28th, 2012- 1) I turned 30 2) the Knicks game one with the Heat in the playoffs. We lost terribly and ultimately got eliminated BUT I have to say considering my beloved Knicks have been plagued by injuries I am really really proud of the season we've had and am super optimistic for next year.
So what did I do for the big day….I had a Treat Yo Self Day! The boyfriend and I wandered around the East Village into stores I frequent and I treated myself: a fun neon sweater from Buffalo Exchange, BrooklynRehab salt & pepper shakers (available HERE) from Pink Olive are some of the things I treated myself to :).
Would I typically buy salt and pepper shakers? NO! That is why it's a treat and it made me happy :).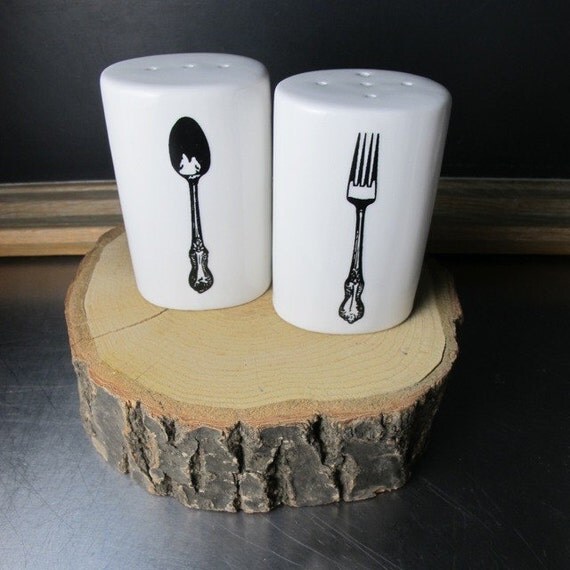 I also finally bought 2 things that I have always wanted for myself.
I think truly every woman should own a precious piece of jewelry they love and bought on their own. April's birthstone happens to be a diamond so I have always wanted to buy myself a diamond.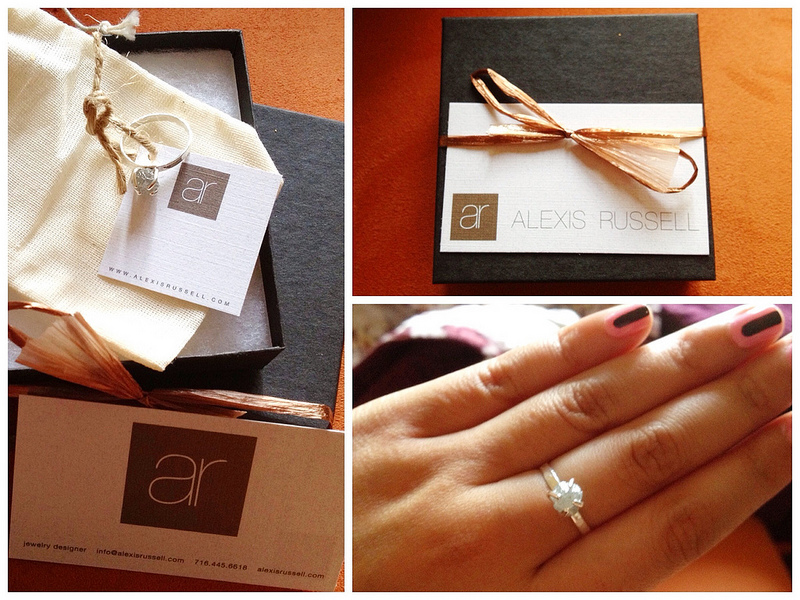 I bought this beautiful ring from Alexis Russell. It's a raw 3 carat diamond set in silver. I LOVE IT! I adore the super traditional setting juxtaposed with the rough diamond. For me it looks modern and elegant.
I actually have wish listed quite a bit from Alexis Russel. Her pieces are made from recycled metals and conflict free gems and the jewelry is just so fine and beautiful. These earrings will be next but here are some other faves (all available HERE).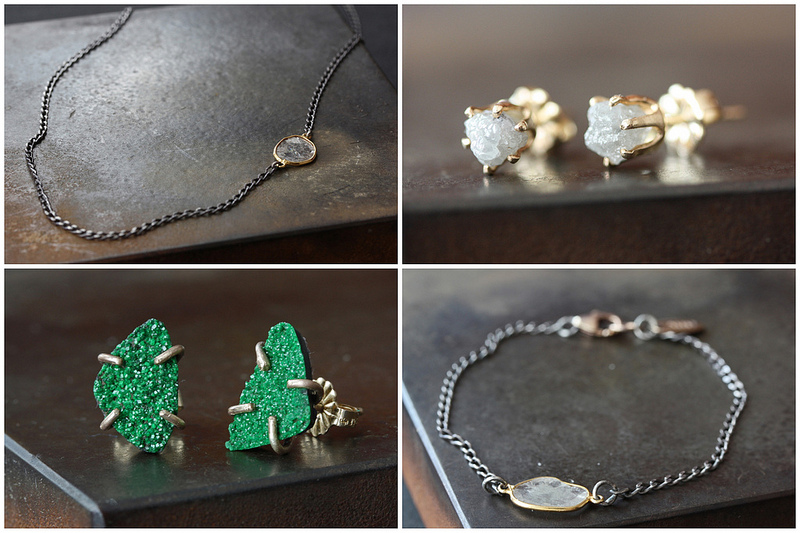 The other big treat for myself was an everyday bag. You've seen my black bad girl bag from Matt & Nat that I love but I also wanted a tan option that had the same function and was made just as fine.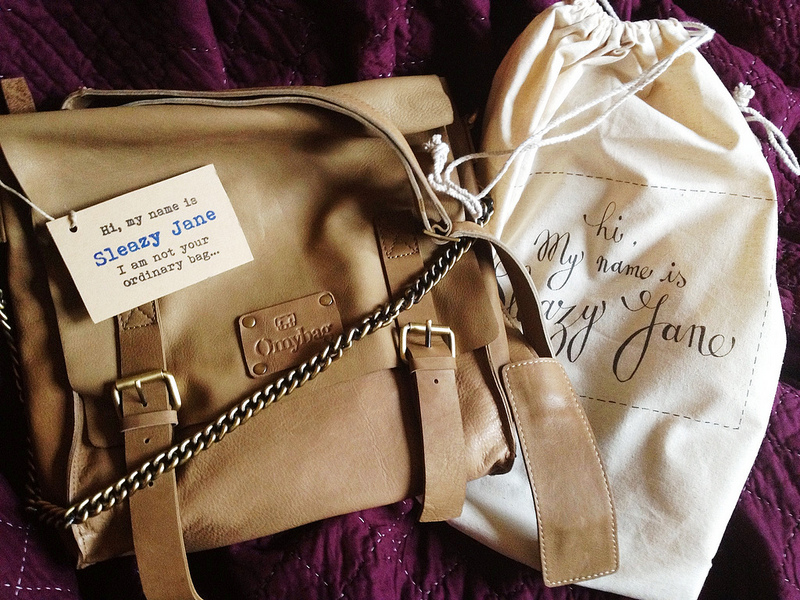 I stumbled on the Sleazy Jane bag from O My Bag on boticca and I knew it was the one. Not only can it go cross-body or purse style (a must for me in any everyday bag) but the ethics of this company are great.
I typically only buy leather that is secondhand, but this leather is actually ethically made. O My Bag only uses hides that pass naturally and they also use a revolutionary eco tanning process that reduces water usage and is chrome free. The bags are also made by a fair trade cooperative in India where the hides are also sourced. Truly it is not your ordinary bag. You can read more about O My Bag's ethical practices here.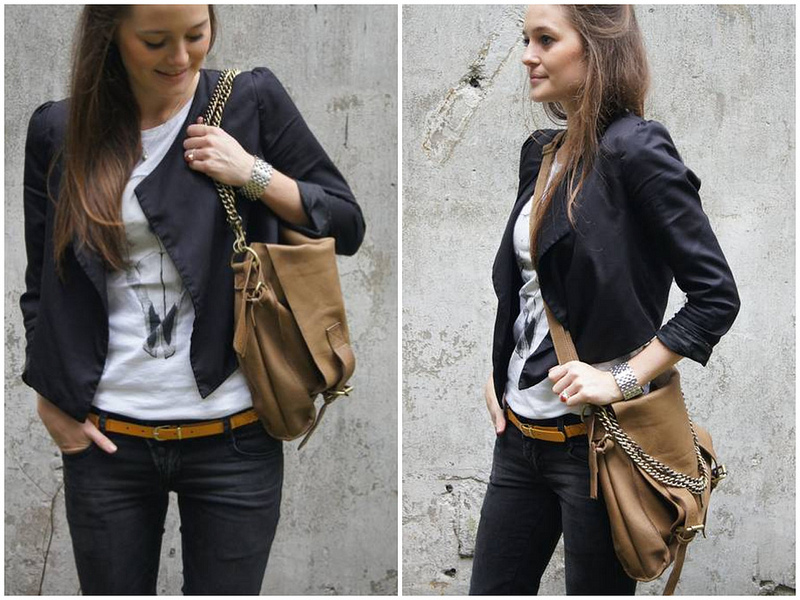 Lastly my birthday was wrapped up with a surprise from my family. I have a large large family and typically don't get to see all my cousins and aunts and uncles on my birthday. I hate being the center of attention so I often opt for several nice small dinners opposed to a large HAPPY BIRTHDAY  moment. But my mamacita surprised me with all my family and I have to say it was awesome.
I felt very loved, especially when my 3 year old nephew serenaded me with this One Direction song :)…sigh, moments I wish I recorded.