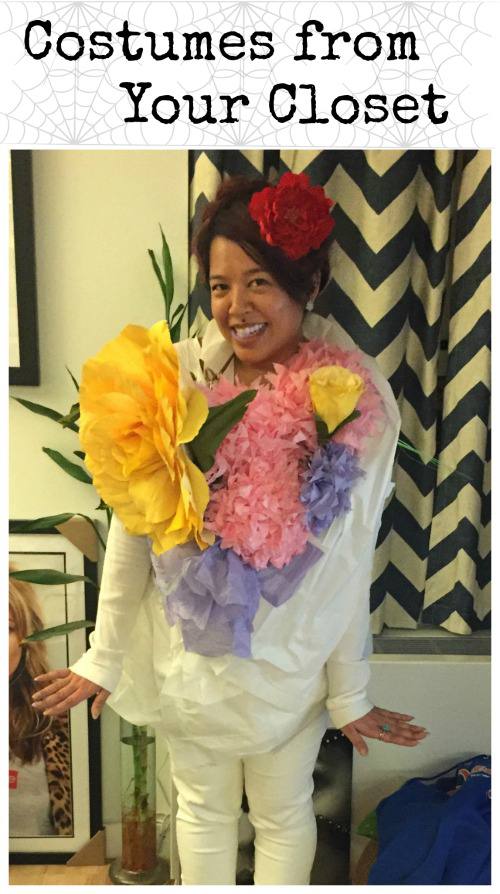 Happy Friday, friends. It's nearly that time of year! Last minute costumes from my closet have kind of become a Halloween tradition for me, lol.  In case you can't tell, I'm a bouquet (inspiration here)! While I love dressing up, I absolutely hate wasteful Halloween costumes, so I always head to my closet first!
I really love my bouquet costume and will probably improve it for this year, so get excited for a full tutorial next Halloween! In the meantime there are some WONDERFUL ideas around the internet that I hope gets those creative juices floating for your own costumes this year.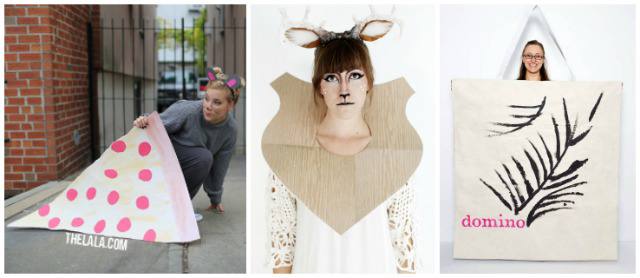 Pizza Rat: Not sure if this is just a local NYC area situation but there was this kind of amazing/terrifying rat dragging a pizza in New York last year and it turned into an internet sensation…Pizza Rat, please never come for me! But this is a great and easy costume: Gray sweats, some poster board or construction paper for ears and pizza. (source TheLala)
Wall Taxidermy: I love how this costume is styled.  Feels wintery and elegant. All you need is a white outfit, some tin foil or even paper to make some ears and antlers, cardboard box, and some paint.  (source The Merry Thought)
Tote: You can use a sheet destined for donation or a large beach towel (beach tote costume!) to make this costume. Or go to your local Goodwill–they're bound to have curtains to make this easy peasy last minute costume! (source Domino)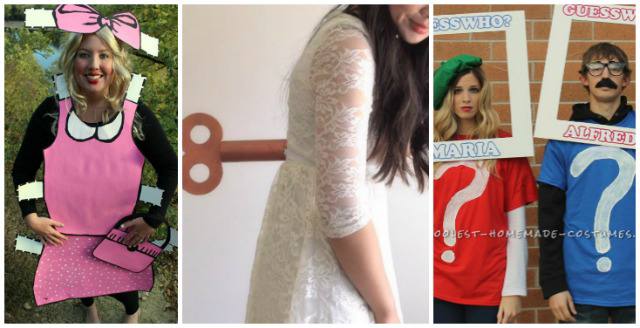 Paper Doll: I've already decided paper doll will be my next costume! So super easy and adorable. Just paint and poster board with a black outfit underneath. (source Lauren Conrad)
Windup Doll: Pick any dress, I love the lacy one pictured feels more windup doll to me. Just need the cardboard to cut out the key, some glue, to stick it onto a paper towel roll, and ribbon or even a belt you have to strap it on.  (source EHow)
Guess Who: Poster board for the frame and a printer–poof you're a Guess Who character. I would definitely try to copy your fave character on the game. Mine is Claire! (source: Coolest Homemade Costumes)
So friends, whatcha'll going to be for Halloween?! Liking any of these costume ideas for yourself? Need more inspiration check the Made-to-Travel archives here, here and here!