So last year! My Costumes From Your Closet post was literally published on October 30th…EEP a little close, no? A bit of a fail for you my friends, so I decided to reshare some of my favorite last minute costumes again, just a little earlier this year! These costumes are easily hiding in your closet or disguised at a thrift store near you!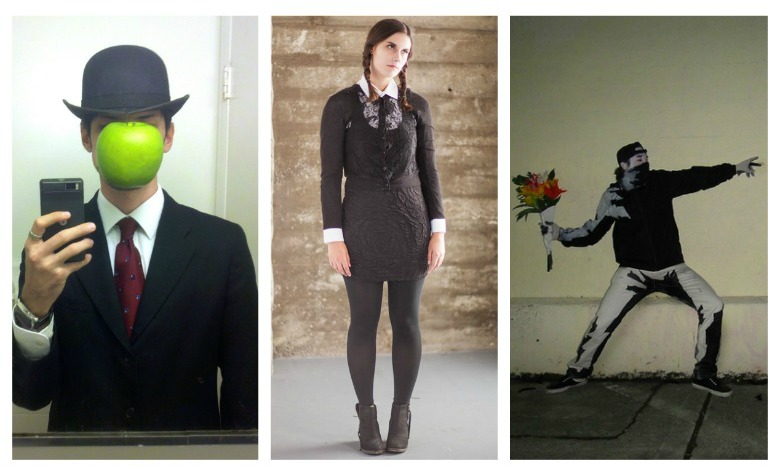 The Son of Man-I think this painting is instantly recognizable, brilliant easy costume!
Wednesday Addams– Got a black dress? White Shirt? Brunette? Powder out your face a bit and you're Wednesday!
Banksy Street Art-This takes a bit of crafting, but get some white paint and shade some black pants and shirt or hoodie…grab flowers on the way to your Halloween festivities.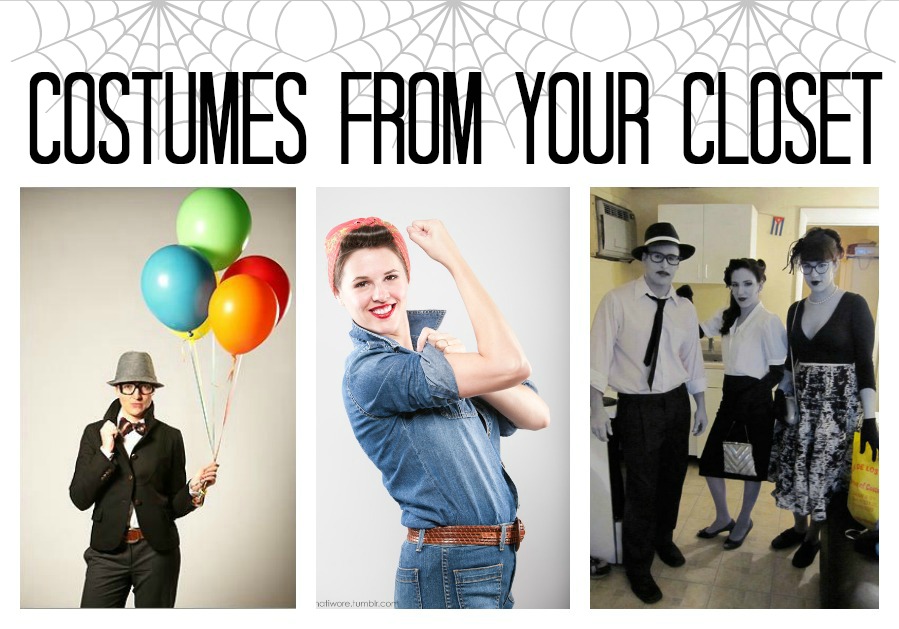 (photo sources: risky business, pulp fiction, breakfast at tiffany's)
Tom Cruise, Risky Business-Add some socks & enthusiastic dancing.
Uma Thurman, Pulp Fiction-Add Black pants, dark lipstick, bobbed hair & cool girl dancing.
Holly Golightly, Breakfast at Tiffany's– Add sleeping mask (diy Breakfast at Tiffany's mask here), french twist, & optional cat.
(photo sources: miss piggy, the ring, carrie)
Miss Piggy-Add snout, ears, blonde hair, glove & pearls.
Creepy Crawling Girld, The Ring-Add some dirt and shred dress a bit, comb hair over your face, & pale out your skin.
Carrie– Add lots and lot and lots of fake blood.
And for fun fun! Here are costumes from my closet from the last few years :D.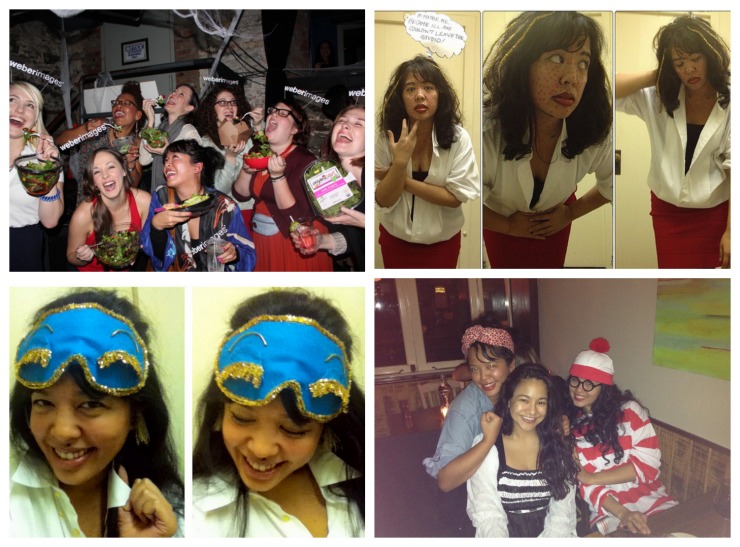 Top row: woman laughing alone w/ salad – it was a meme party, lol  and Lichtenstein girl costume
Bottom row: Holly Golightly and Rosie the Riverter and friends pirate and Waldo 🙂 at super last minute Halloween bff dinner!
Hope this gave you some inspiration for Halloween this year! Be a kid! Take advantage of a day you can be anyone/anything :D.