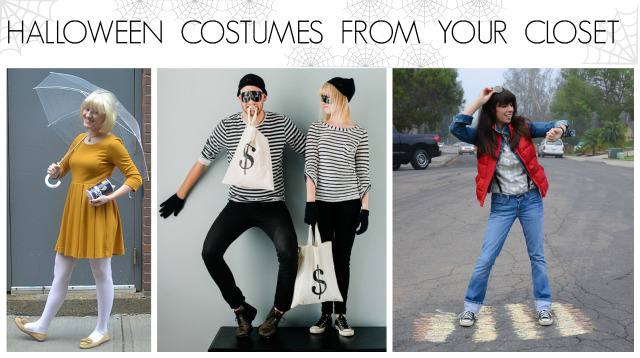 ZOMG! Halloween is only 2 weeks away! Can you believe it?! If you know me you know I love a reason to be in costume–time to have fun, stretch those creative muscles and wear something you can't wear in real life–sign me up! But I hate to be wasteful and I don't like spending a lot of money on Halloween hence this yearly post on Costumes from Your Closet…you're welcome! Plus you'll see my costume from my closet last year!
Morton's Salt Girl: Yellow dress, I would faux bob my hair instead of wigging–but either works, umbrella and your Morton's Salt from your kitchen…Poof! Costume! (inspiration photo via The Garment District)
Robbers: The costume above uses a bought mask but a bandit's mask is super easy to make with some black fabric from a reusable tote like this robber's costume, black and white striped shirt, tote with a painted or masking taped dollar sign and black gloves…done! (inspiration photo via  Say Yes)
Marty McFly from Back to the Future: This one requires a very specific closet, but if you have a hipster bf like me it's actually pretty easy to find this stuff. Also don't forget your thrift store :). (inspiration photo via The Nerdy Girlie)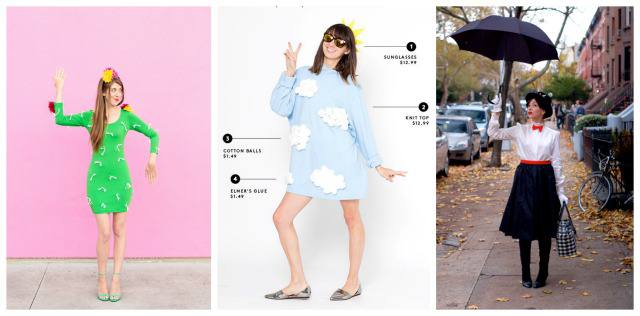 Cactus: I typically don't like dresses made to look like inanimate objects for costumes, but I LOVE this costume–it totally gives me cactus! All you need is a green dress and some yarn or white fabric, whatever you have laying around. (inspiration photo via Studio DIY)
Sunny Day: I nearly did this for Halloween last year and it's still a possibility for this year. Any blue dress or oversized sweater will do + cotton, shades and totally easy to make a sun headpiece or head band. Plus it's a cheerful costume which I love! (photo inspiration via Refinery29)
Mary Poppins: White button downed shirt, black skirt, if you don't have a red bow tie or red belt buy a spool of wide red ribbon preferably cloth and diy it! Don't forget your umbrella and snazzy bag! (inspiration photo via Keiko Lynn)
Sooooo drumroll please! Sorry in advance I don't actually have a picture of me IN my costume! I literally made this costume in about 40 minutes on Halloween night and then had a fantastic time at a Halloween party so no times for pictures when you're rushing and having fun! You'll never guess in a million years what I was, lol.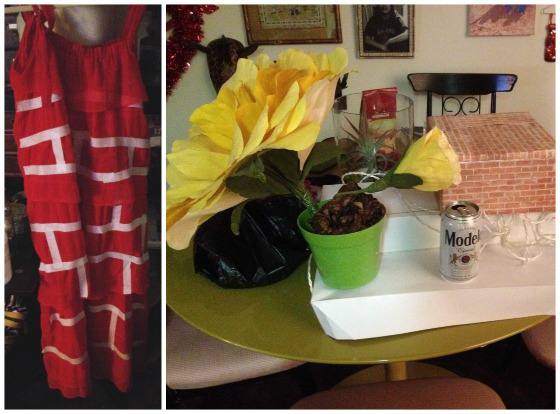 It was an urban garden!!! I made my red maxi dress into a building with some white masking tape (ps was AMAZED how good it turned out), "the stoop" was made of a shirt box I had laying around, the planter I also had laying around as well as the beer can– I stuck both on with double sided tape, the flowers I made years ago, the soil was a mix of plastic bags and tissue paper, the building top hat, is made from a box and I printed a brick desktop wallpaper I found online and just used clear tape to decorate my hat—DONE! Free costume in under 40 minutes! I would totally make the costume better in retrospect–could've made it more "stoop like" if I added a door–but I still totally loved it!
So friends, are you thinking of your costume yet?! Did you get any ideas from here!?
Need more ideas?! Check out MORE Costumes from Your Closet from the Made-to-Travel archives.