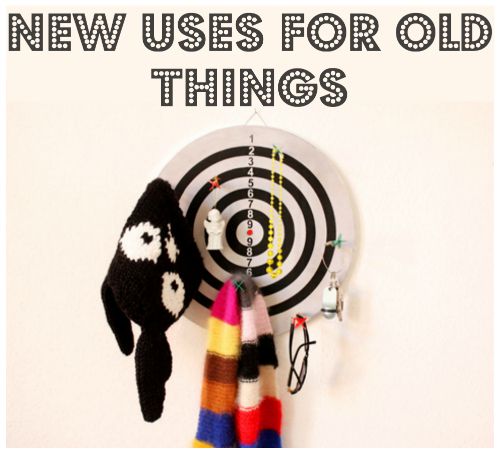 Haven't done a DIY in so long! I am missing it so decided to share some new uses for old things that I am seriously crushing on. Hopefully will find the time to be crafty soon :).
New Uses for Old Things

Legos reuse (found on Houzz): I can't wait for my nieces and nephews to grow out of their legos so I can make something like this.
Jars reuse (found on Quite Quaint): Working on this right now! But instead of buying new jars I've been saving the jars from my coconut oil. Reuse baby!
CD reuse (found on IHeart Organizing): This is so brilliant! IHeart Organizing used this for a kids closet but I want to do something similar to categorize my closet: dresses/tops/pants. I'll also probably use cardboard instead of cd's to get the same effect. Can't wait!
Belts reuse (found on A Beautiful Mess): A great way to upcycle cute belts! Would have never thought of something so simple and clever.

Dartboard reuse (found on Curbly): Another super smart reuse. Wish I had a dartboard lying around to reuse!
File Folder Labels reuse (found on RealSimple): I HATE the guessing game that happens when I'm refiguring my power strip. A perfect and easy solution!
Hanger reuse (found on Homesick): So I'm no stranger to reusing hangers (check my reuse here), but I love how modern this take is!
Trashcan reuse (found on The Crafted Life): Such a smart little trick to instantly transform a trashcan! The design options with embroidery are endless!
I love all these really smart new uses for old things! Upcycling makes me happy because it's good for the environment and FREE!! Yay! Any new uses for old things to share with me, friends?!
Also you can see all the reusing I've done like these reuse of stocking to lampshade, reuse of a paper towel roll to wire storage, or my fave reuse: temporary tattoos on my shoes–right here in my DIY section :). Happy weekend, friends!