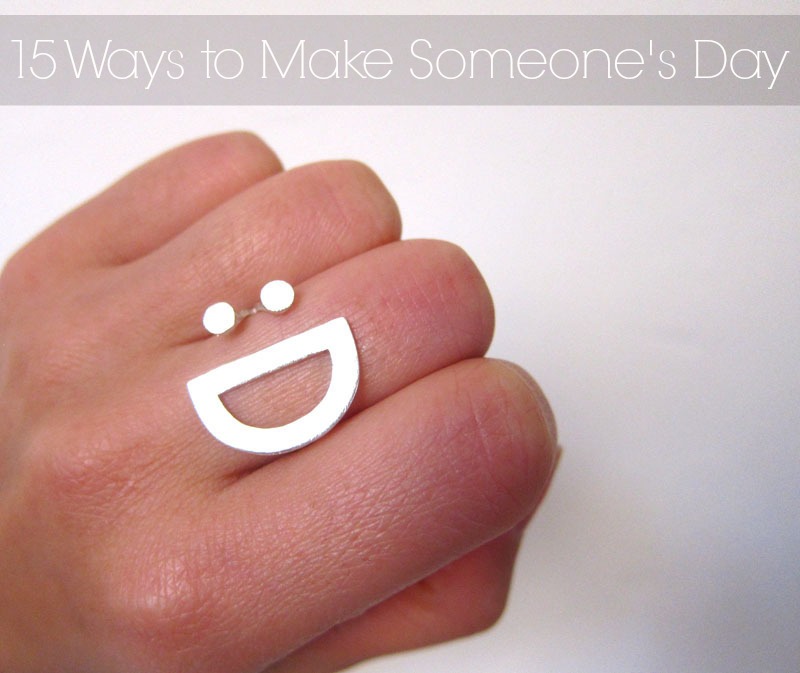 (ring available at Smiling Silver Smith here)
Yesterday was the UN's International Day of Happiness so in the spirit of that special day, here are 15 easy ways to make someone's day!
Truth is chances are by making someone's day you'll be making you're own! Happiness is totally infectious! So let's get to it!
1) If you know someone who's out sick write them an email with a fun photo or GIF letting them know you miss them. (I did this yesterday!)
2) Give an extra large tip! – Man, have you ever seen a delivery guy get a $10 tip? I saw my sweet co-worker do this yesterday at lunch and this delivery guy was so so happy and it made her feel great too.
3) Call someone just to say hi. I'm totally guilty of only picking up the phone to make plans but, getting a "just because" call feels totally awesome and special.
4) Text someone that you're thinking of them.
5) Compliment someone…on anything! Nails, shirt, dress, hair, whatever it is it will make them feel like a million bucks.
6) Have you gone to a party/wedding/event recently? Write a message on the host's facebook or email or text them letting them know you had a great time.
7) Make a personalized GIF for someone.
8) Have a book that you know your friend/coworker/mom/bro/aunt/cousin/whoever would love? Give it to them :).
9) Buy a meal for a homeless person. Doesn't have to be anything fancy, I bought a homeless guy a Dunkin Doughnuts meal…it cost $4 and his eyes filled with tears.
10) If you read something GREAT online, something that reminds you of someone why not just send it to them?!
11) Make faces everywhere! I love face bombing people's things :D. Note: make sure the stickers are removable.
12) Smile at strangers. Even better start a conversation!
13) GIVE HUGS!!!
14) Know someone feeling a little down, send them the: Emergency Compliment Generator.
15) Tell someone they're great and I mean really really tell them.
Have any easy ways to make someone's day!? I want to know them too…Please share!
Have a wonderful weekend, friends!