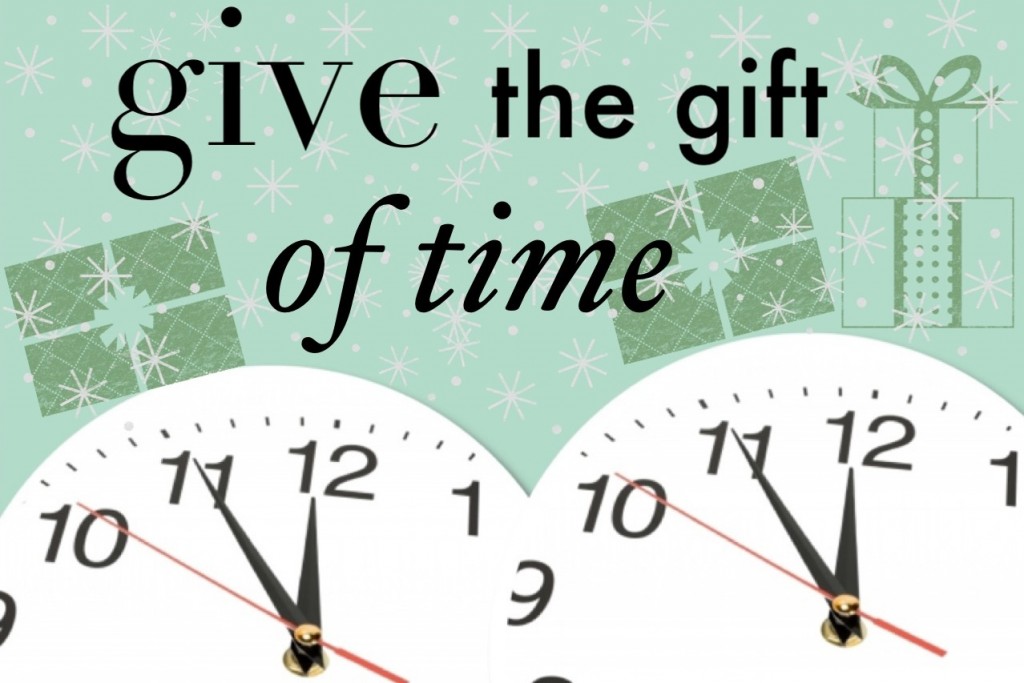 To celebrate that the world is still here (yay!) and we've all been given a little bit more time I wanted to share some ways you can gift time to someone for Christmas.
Time is really the perfect gift for that person who has everything or your friend that's been super stressed or your boyfriend that has been working overtime or your best friend who's a new mom.
Give Some Leisure Time
Babysit for your favorite parents/parent,  I'm sure they'd appreciate a night out without worrying about child care :).
Or if you live with a roommate or significant other why not give them a night of leisure. Draw up a bath, cook dinner, and supply them with their favorite magazines and music and just let them relax.
Give Learning Time
Are you a photographer? Can you knit? Or paint? Or design a website? If you have a special skill and you noticed your loved one admiring or wanting that skill, why not gift them a lesson!
If you're a wiz at PhotoShop show them how to touch up their photos, or if you can sew yourself a dress, show them how to fit and sew, or maybe you have a recipe that is your special someone's favorite mystery, have a cooking date and show them how to make it!
Give Volunteer Time
If someone close to you has a specific cause dear to their heart find a way that you guys can give back together. Whether that's sitting with them to sort clothes to give to Goodwill, or finding an active Habitat for Humanity project to sign up for, or cooking something for your local soup kitchen, find that thing out and see how you can help that cause together.
Lots of people really have the desire to give back but it's really challenging to carve out the time and decide the best way to help, by planning this out for them and making that time special by joining you're really giving a special gift of your time and of giving. And you'll feel extra awesome because you'll be helping others too.
Giving gifts is something I truly enjoy. I love finding that perfect something for the perfect someone. To me the best gifts don't have to be super expensive or incredibly rare…they are gifts that come from lots of thoughtfulness and love.
Since this will probably be my last post till after Christmas, I want to wish you all a beautiful beautiful holiday. I hope it's filled with lots of joy and wonderful things.