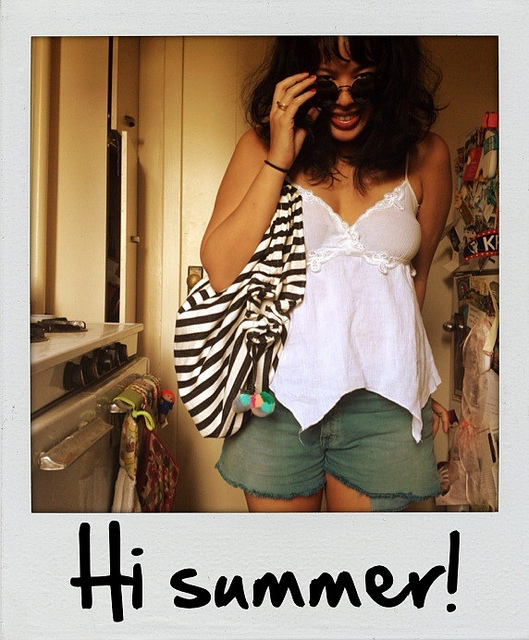 (sunnies-vintage raybans via etsy; top-sooooo old! college old!; shorts-current/elliott via nordstrom off the rack; bag-proud mary)
This week there's been a much needed break from the super hot hot summer here in NY. Really I don't remember it ever getting so hot so early in the summer months but HI SUMMER! I get it- you are here, lol.
Over the weekend I got to spend some quality time with my cousins which was fantastic. I got to see my cutie godson and wade in his kiddie pool :).
It was the perfect summer day :).
There are 4 things I am crazy in love with in this post.
My cutie godson-duhhh.
Best shorts ever by Current/Elliott (made in the U.S.A)- the softest most comfortable denim shorts I've ever owned (note: order a size or 2 down, they run pretty big). You can find them on piperlime here
My awesome new photo app that frames photos polaroid style called Polamatic.
The pom pom on my bag from Proud Mary!!!!! I dies for it. It's so cute I want to eat it!
But I won't…tee hee :).  I do think this little Proud Mary gem is the most amazingly happy adorable pom pom around! You can read more about Proud Mary here or on my post on them last year here.
Hope you are having a happy happy summer!