Smile File-LIN-teresting :)
I can't believe it's already All-Star Weekend and I have not posted about basketball at all! Truthfully, because of the lockout and the short season basketball was not super exciting to me. I was a bit deflated with watching games. Short seasons have teams on an aggressive schedule and I think it really just tires them and sadly it shows. BUT THEN(!) something LIN-teresting…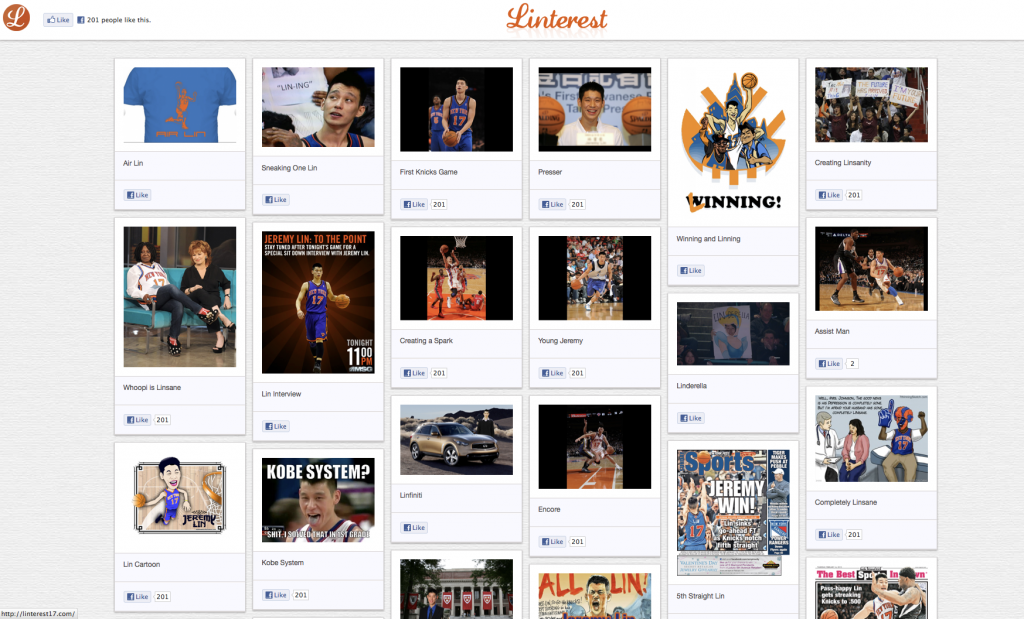 DUHHH! I'm talking about Jeremy Lin and his inspiring story. Above is a site called Linterest (yes, that's right pinterest for Jeremy Lin), the NBA can thank Lin for restoring interest and passion to the game of basketball. I mean who even recalls the lockout now!?!?
I realize we have a long way ahead of us. After the loss on Thursday to the Heat the Knicks are only eking into the playoffs just shy of .500. BUT I am so happy that Lin has injected new energy into my team and rekindled my relationship with basketball…thanks Jeremy Lin for everything!!!
In case you missed my love of the Knicks last year here is a fun look back!
Enjoy All Star Weekend friends!!!
P.S-Linterest was found on this awesome article at Gizmodo.