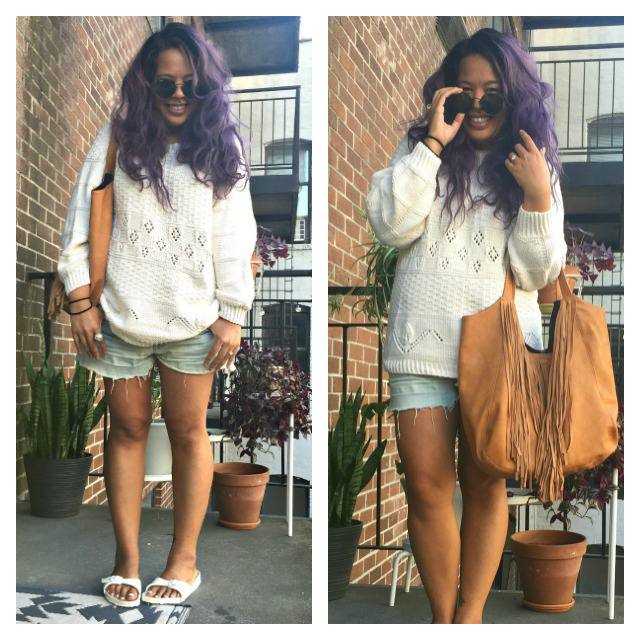 Hi Fall and HIIIIIEEEEE ya'll!!! I'm so so happy to be back :). If you remember this year was kind of a benchmark of a year for me and with work being crazy I decided I needed to take some time off. Hope you had a beautiful summer and are excited for Fall!
I really really love the Summer into Fall transition– it allows me to still wear shorts (all-time favorite bottom) and break out some cozier items like this sweater. A couple of weekends ago, we had our very first taste of Fall and this was the perfect outfit to run around doing errands.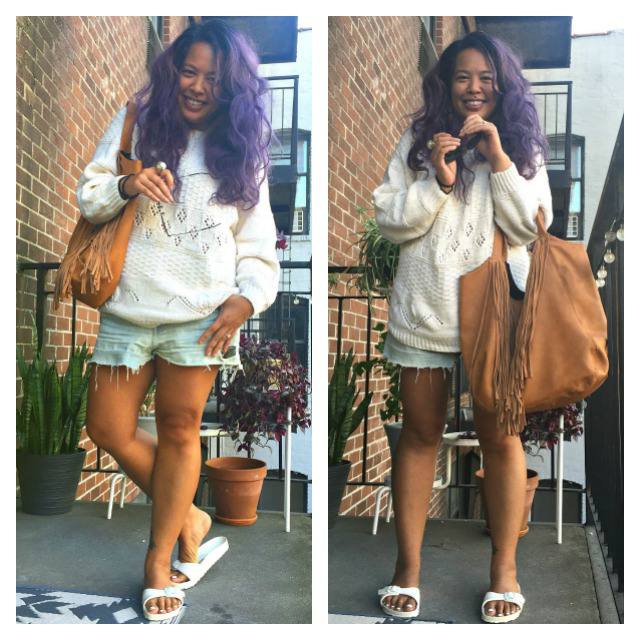 sweater-thrifted via Goodwill // shorts-diy // bag-thrifted via HousingWorks // shoes-see below // pearl ring-gifted via Philippines // sunglasses-vintage ray bans via Etsy
As I was writing this post I noticed pretty much everything I'm wearing is thrifted. Yay for recycling, yay for saving money, but boo for not being able to get you guys good links. Inspired by the gorgeous and amazing Apartment Therapy's Shop the Style, I wanted to start helping you guys achieve a look—but ethically!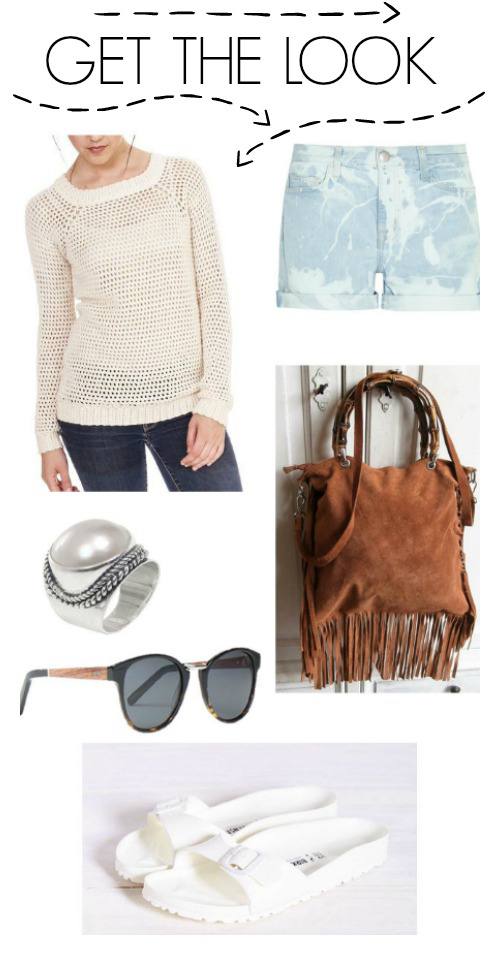 crew neck sweater via Accompany-$68.95 // shorts via the Outnet current/elliott-$69.42 // sterling silver pearl ring via Novica -$35.99 // vintage fringe bag via Etsy-$44.86 // sandals via UO Birkenstock-$30
Yay! Now you can recreate the outfit if you're so inspired :). I plan to make Get the Look…Ethically! into a new feature on Made-to-Travel and I thought it would be nice to introduce it with moi! I won't be recreating every outfit from What I Wore, but I will be recreating looks from celebs and other inspiring outfits from around the internet. Get excited!
Hope you're getting this new season started right! So happy to be back and inspired. Tell me about your Summer! Are you liking this Get the Look…Ethically situation?