So friends, I have gone a little crazy on my Pinterest–pinning homemade ice creams and frozen treats . I am one of the very few people I know who don't have an air conditioner so I'm constantly looking for easy peasy, healthy and delicious ways to stay cool. I also really love making my food–allows me to know exactly what's in it :).
Here are a few of the recipes I'm really looking forward to trying!
Pistachio Ice Cream-from Blender Babes //  Watermelon Coconut Ice Cream-from Nutritionist in the Kitchen // Vanilla Macadamia Nut Ice Cream-from Daily Bites // Cashew Banana Ice Cream – from Healthy Blender Recipes // Peanut Butter Banana Chocolate Ice Cream // Watermelon and Strawberry Sorbet- from Dashing Dish
I love that these recipes only require a handy blender! Pistachio ice cream is one of my favorite favorite flavors so I'm super excited to give that one a try! I truly can not tell you how thankful I am for the internet for indulging my sweet tooth.
You've seen my easy peasy banana ice cream, but here's my latest creation! Watermelon, lime and mint sorbet.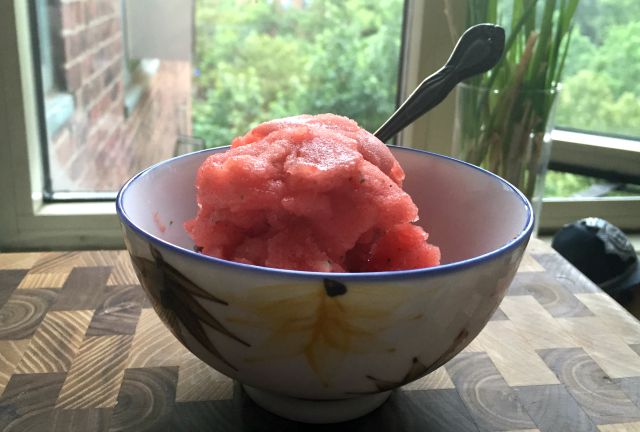 Recipe serves 1-2: handful and a half of frozen watermelon cubed // juice from 1/4 of a lime // 3 mint leaves or to taste // 1 ice cube // pinch of sea salt // 1 spoonful of honey
So friends are you sweltering this summer? Any homemade ice creams or frozen treat recipes you care to share? You can check out other recipe crushes on my Pinterest board Foods…Yom Yom!