I do wear a lot of patterns and a lot of dresses and a lot of fun colors, but if I haaad to choose my most favorite item of clothing in my whole entire huge wardrobe it would easily be the Mama Cass Tee in white by Alternative Apparel.
No accessorizing in this pic, I wanted you to see just my tee 🙂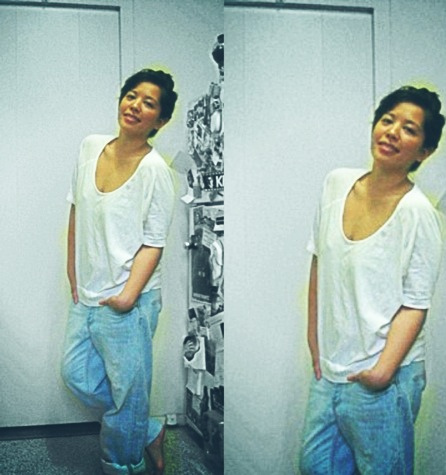 I had to qualify in white because I own this tee in a few versions: 3 white, 1 gray, and 1 eggplant. That's right it is thaaaat good! I am typically a pretty budget conscious shopper, but this tee is something I'm willing to spend on over and over again.
You might have heard of Alternative Apparel or seen their products around. Their items are highly regarded and available at a lot of different retail outlets.
Alternative Apparel at Herald Square Macy's Fall/Winter 2010.
BUT here are some reasons why you should LOVE Alternative Apparel clothing like I love my tee:
The quality of their items is incredible!! My fave tee is 100% Pima cotton. "Pima cotton produces a very soft, durable, luxurious fabric that lends itself to items that are worn frequently" (source).
They have incredibly high standards in labor practices. Including fare wages, fair hours, and no forced labor.
Alternative Apparel is a company that believes the quality of their product is reflected by the people behind it and they take this tenet very seriously!-You can check out their principles here.
They have a really admirable sense of community and responsibility. Their blog is awesome and it really highlights wonderful social causes, community building, and sustainable living.
So of course I subscribe to their newsletter and in honor of Earth Day they are giving  us 20% off  their green collection-Alternative Earth ( use promo code GREEN1 at checkout, offer till 4/24/11). Here are some of my favorites:
alternative apparel by made-to-travel on Polyvore.com
Yep, that pink tank top is not just eco-friendly but sales also go to benefit Susan G Komen for the Cure Foundation for breast cancer.
So if you are looking for basics for your wardrobe, the kind that you don't need to think about and the kind that feels good and wears well every time, I would highly recommend you stop by Alternative Apparel. The quality of their items and the quality of their beliefs are reaaaally something to be admired. Shop for MORE than style friends :).
HAPPY EARLY EARTH DAY!