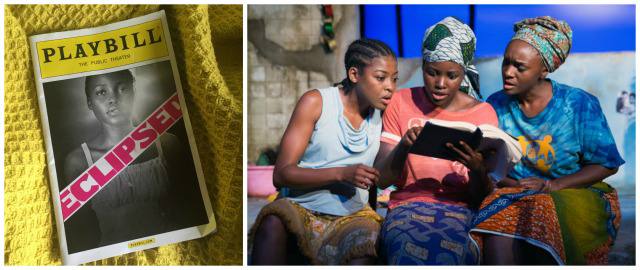 Hello friends, happy Monday! Review of the Week: I had the great pleasure of seeing Eclipsed at the Public Theater last week and I know this is a super local recommendation but I had to share it!
Eclipsed's story revolves around 4 abducted women and their personal journeys during their captivity in the last days of Liberian rebellions in 2003. It's a STUNNING play that is so completely riveting and arresting. The billed star is Lupita Nyong'o but the play is totally an ensemble effort and every woman's story is completely compelling. If you are in NY this is a MUST SEE. You'll be on the edge of your seat, totally dramatic with moments of brilliant dark humor–but bring your tissues.
(photo on the right via NYT)
Now friends, please enjoy some of the recent reasons I hearted the internet.
"Fear of failure, fear of not being good enough, fear of letting go of control, fear of being alone, fear of abandonment, fear of discomfort, fear of missing out, fear that you're not OK as you are or your life isn't OK as it is, fear that some ideal won't come true.

And these all boil down to the same fear: fear that you won't be OK, that you're not good enough. A lack of trust in yourself, and in the present moment."