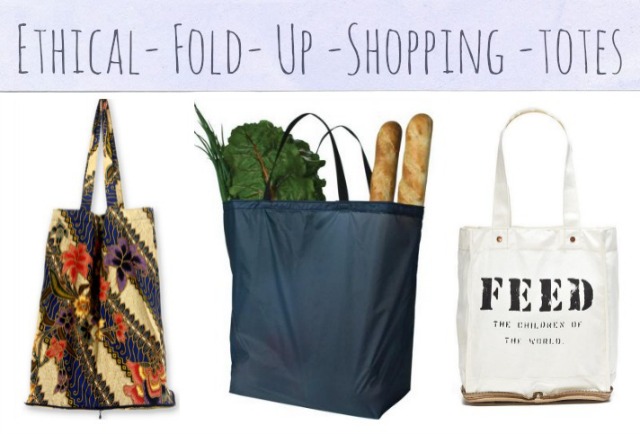 (L-R: batik fold up tote – $28.49 // tortex ultralite tote – $14 // feed 100 bag – $45)
GO California!!! State governor Jerry Brown says he will probably sign the bill on banning single use plastic bags in the state of California! That means if passed only paper bags and reusable bags will be available at stores to customers and they'll have to pay at least 10 cents to buy one. I personally think this is AWESOME.
So in light of this wonderful bit of legislation I thought I would give you a roundup of ethical fold up totes. I need everything to be super easy and these fold up totes stow into any bag/dashboard/drawer, giving you easy access to a shopping tote!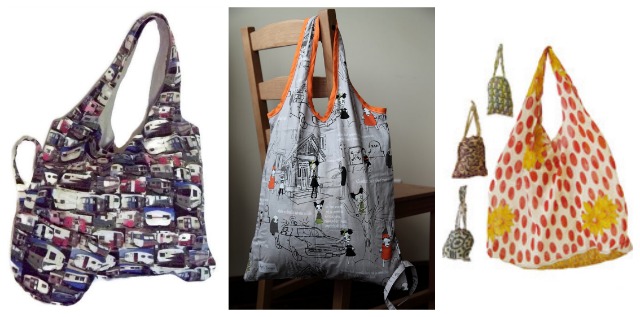 (L-R: market tote caravan – $28.90// collapsible tote zombie -$7.50 // fold up tote – $20)
And in case you're like me, and you have lots of totes lying around your house already, you can easily make any of them into fold up totes!
How to Fold Up Shopping Totes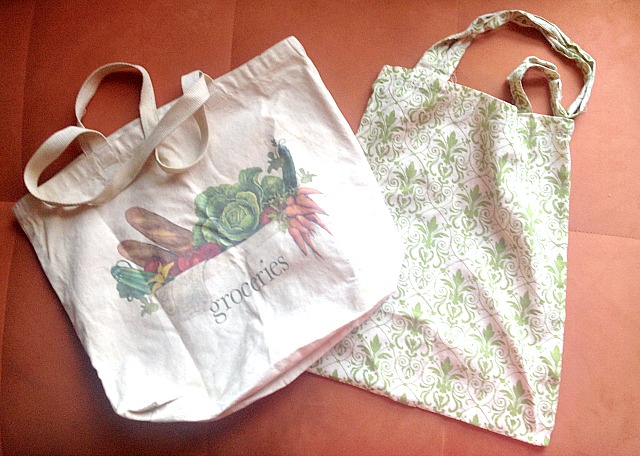 I have A LOT of totes on hand…mostly swag from events, but also my friends and family know I'm a green shopper so I've been gifted a lot of totes. These two totes were gifts and show the two basic shapes of my tote bags: horizontal and huge (this "groceries" bag, is the BOMB for my actual groceries) and the more standard tote bag shape.
Roll Up Tote Bag
I often go grocery shopping after work and on these days I have to bring 2 of my bigger totes along for my day, so this this is how I get my totes in my work bag easy.

Directions: fold tote in half // then take the bottom and start rolling up your tote // once tote is all rolled, take the handles and wrap it around the roll like your making a ponytail –voilá! Rolled up tote!
Fold Tote into a Triangle
I also like to keep the more standard sized totes in my "go-to" work bags and in my desk drawer at the office, this way I never forget them. When you fold your tote into a triangle, it really takes up no space at all!

Directions: fold tote in half and then take one of the bottom corners and fold to the opposite edge // keep folding upward on the edge of the triangle // finally tuck the handles into the folds of the triangle…presto! Triangle tote :).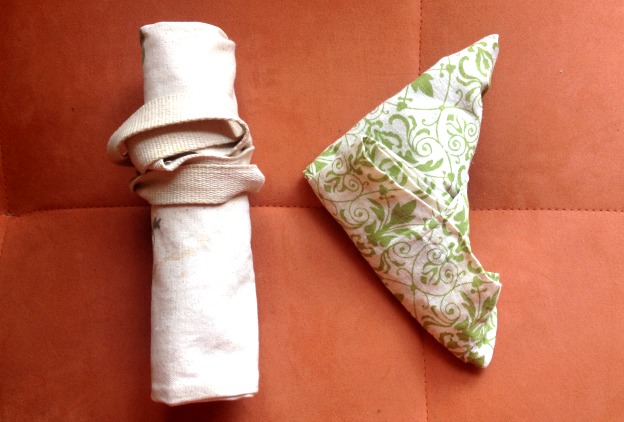 As you can see you once you fold your totes, they're so easy to haul around everyday! I mean honestly, can't even remember the last time I got a plastic bag at a store :).
Friends, I have to say I'm thrilled California is taking this huge step into a great piece of environmental law. I know there's opposition and honestly I do get it, but like every good thing and every good change those hardships are truly growing pains. I think ultimately this is s definitely a step in the right direction! Go Cali!