My cousins and I have been doing a Secret Santa or Grab Bag gift situation for years now and one of the biggest challenges is finding a gift that will suit either lady or lad!
Well, for all you merry Secret Santas here 's some ethical choices for some unisex gifts this year!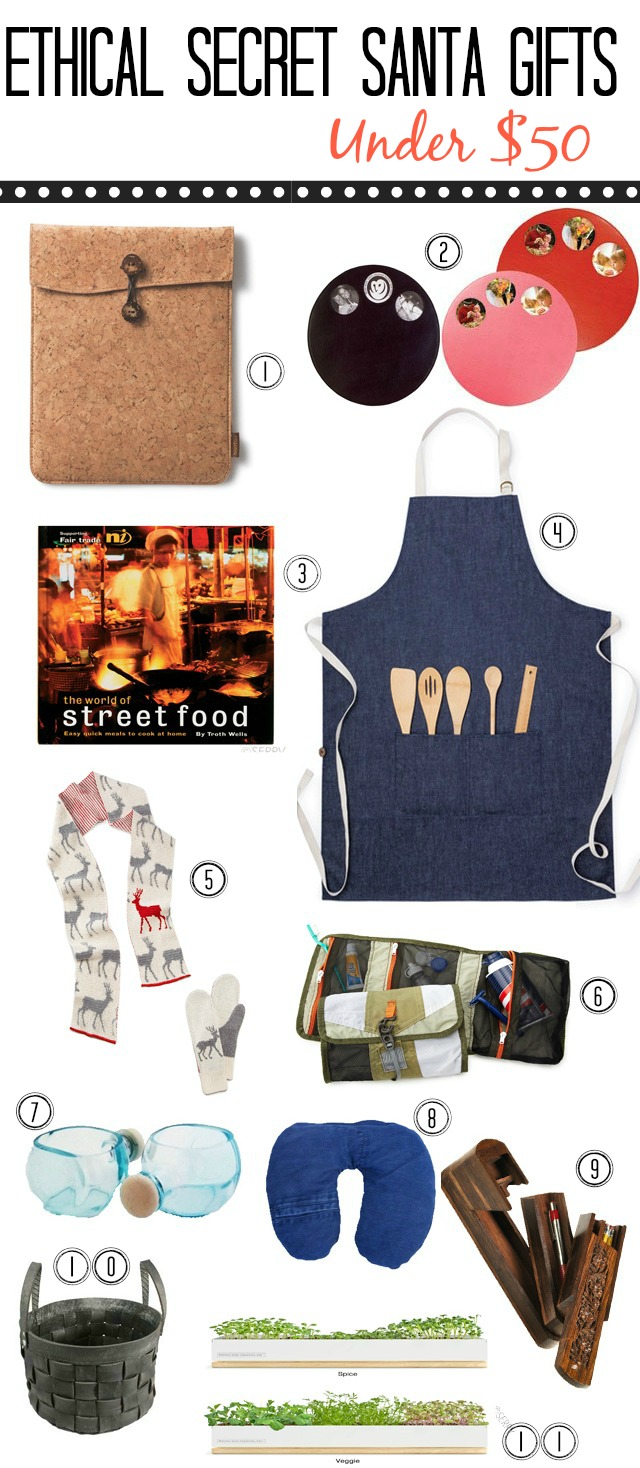 Tablet Cover by BamBu-$36: Such a nice modern design made ethically in China out of cork, one of the most sustainable materials around.
Owl Upcycled Mousepads-$25: Customizable! Put fun pictures in the little slots or allow your lucky giftee add a gem themselves. Made out of upcycled leather by Owl Recycled, learn more about their products here.
Street Food Cookbook-$19.95: Maybe the coolest cookbook I've seen in a while.
Hemp Denim Apron w/ Tool Set-$50: I am such a proponent for an apron! Even better with pockets…even way better when it comes with handy kitchen tools made of sustainable bamboo.
Deer to Standout Mittens & Scarf-$48: Such an adorable way to keep warm for a man or woman! Made by a family-run business in Binghamton, NY out of recycled cotton.
Upcycled Tent Travel Pack-$38: Handmade in Mexico, a roll up travel case for toiletries is such a treat when you unpack! Would love to get this gift!
Don Julio Blanco Bowl-$28: Tequila!!! Who knew the bottle is also really beautiful, these bowls are made in the USA.
Denim & Cherry Pit Neck Hugger-$32: Seriously where has this been all my life?! You can warm this neck hugger or keep it cool, add your favorite essential oils for extra relaxation and throw it all in the wash! Made in the USA.
Desk Pen & Pencil Box-$16:  Such a handsome accessory for a desk and a bonus that it will keep all your writing needs organized. Made by fair trade artisans in India.
Woven Tire Basket-$39: This basket is made from upcycled tires by artisans in India. I can find a million uses for this guy! Storing magazines, towels, slippers!
Micro-Greens Kits-$8-$40: Nothing is more the gift that keeps giving than this really lovely modern greens kit. The planter is made of recycled steel and the lid/drainer is made of bamboo…all made in the USA.