Okay I'll finally admit it…winter is coming :(. I am a HUGE believer in investing in a great winter coat. I bought a new winter coat last year from Hessnatur (saaadly, closed US shop) but before that I used the same one for 5 years!!! A couple of reasons why I splurge on a coat: 1) A good warm coat, even at a bargain, will not be cheap…so might as well! 2) I hate being cold! HATE!
So if it's getting chilly around you here are some tips at choosing your next winter coat.
(text added by me photo source: geirt.com via photopincc)
Look for classic styles– This does NOT mean boring, but a coat that you feel you'll still love in the next 3 years, because a good winter coat will last at least that long!
Choose a basic color or a color you LOVE– Gray, camel, fatigue green, and black will literally go with everything but if your favorite color is purple or yellow or blue go ahead invest in your favorite color! But if you're just experimenting with a color, I feel it's probably not the best idea to splurge on a winter coat in that color. ..who knows how you'll feel next year?
Leave a little extra room– Okay so this might be a personal choice, but I like the option of wearing chunky chunky sweaters and since I depend on my coat lasting a few years some weight gain and loss, I tend to get a coat that is a size larger to accommodate for these things.
Think of what you need– My old winter coat did not have a hood and so for 5 years I was in search of hats!!! I missed having a hood so darn much! So as always when you're shopping be thoughtful, think of the details you need in a winter coat…hood? pockets? high neck?
Now friends, here are my picks for ethical winter coats!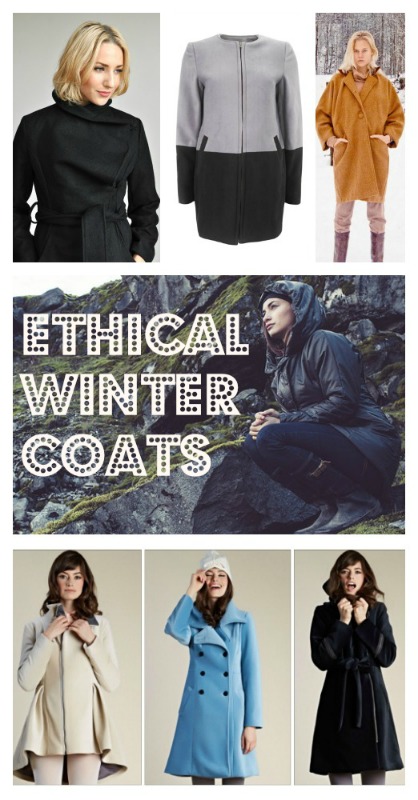 L-R: Ceiba Wool Coat – $245 $99 / Fair + True Contrast Coat – $217.16 / American Apparel Wool Coat – $185 / Nau Synfill Cloak – $230 / Vaute Couture: Velveteen– $430 $304, Belden- $400 $320, Emily – $450 $360
Okay confession(!), I may buy this Nau Synfill Cloak, I like that it's a little more urban and a totally different look than the Hessnatur coat from last year.
So friends, is it getting chilly where you are?!?!