You may have been reading a lot about the immense tragedy of the garment factory building collapse at Rana Plaza on April 24th in Savar, Bangladesh. But in case you haven't I really do feel a responsibility to discuss it with you, friends.
The Rana Plaza building collapse has been deemed by many media outlets as the biggest disaster to ever hit the global garment industry ever. The Bangladeshi government called off the official search for survivors on Monday to turn over cleanup efforts to local authorities–the death toll reported is at least 1,127 people.
Considering Rana Plaza happened just 5 months after a garment manufacturing fire in November in Dhaka, Bangladesh killed 124 and with another fire just 4 days after Rana Plaza in a sweater manufacturing company in nearby Mirpur, Bangladesh, killing 8, maybe it's time to ask what are we doing to contribute to these events?
The Demand is More for Less
It's no secret that we have more clothing now than ever in the United States. We have an enormous amount of access to clothing here and with new trends coming in before current trends are out the door we're just buying more…BUT the kicker is we are spending less.
The graph above kind of blew my mind. This is the average percentage spent of disposable income on clothing. So at it's peak we spent 11% of our money on clothing and now we are at a mere 3% yet we have so much more. It's probably because we have found cheaper and cheaper ways to produce more and more clothing.
As manufacturing cost rises in fast developing China, Bangladesh makes for a cheap alternative for the garment industry. Bangladesh's minimum wage is $38 a month-one of the lowest in the world and with little policies in place to protect garment workers it has been the go to solution for many many retailers.
The Situation in Bangladesh
The garment industry makes up 77% of Bangladeshi exports, it is a $20 billion dollar industry employing over 3.6 million people (source: CNN), so certainly the answer can not be to cripple this nation and pull out of Bangladesh.
According to Bloomberg News' Mehul Srivastava the cost of making a safe work environment would not make an unmanageable cost difference to the consumer OR retailer, the estimates are at just 10/15 cents per garment.
Srivastava discusses that in an interview with NPR's David Greene here, excerpt below.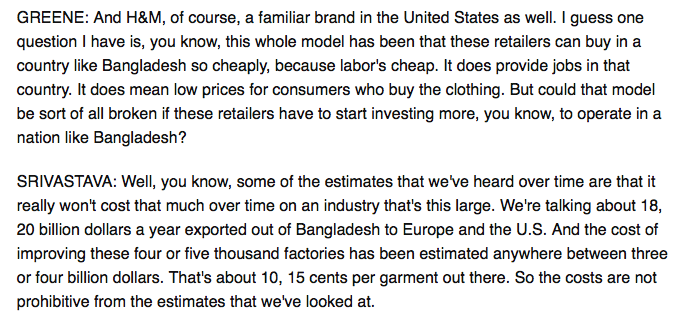 The garment factory that went up in flames and killed over 100 people this past November had NOT EVEN ONE fire emergency exit, and this was a factory that was audited only a year before given a "Medium Risk"-Yellow rating.  The fire director on scene said, "Had there been at least one emergency exit through outside the factory, the casualties would have been much lower…" (source: AP).
Change is Coming…
It's sad that only an incident as huge and as tragic as Rana Plaza is what draws the media attention, the much needed conversation and the weight of responsibility on these retailers.
In just 3 short weeks big steps in the right direction have been made.
24 HUGE retailers have signed an Accord for Fire and Building Safety in Bangladesh. The signatories of this accord will be legally bound to help shoulder the cost for safer working environments in Bangladesh.
P.S.- Only one U.S. based company (PVH owner of Calvin Klein and Tommy Hilfiger) has agreed to sign the accord–HUGE retailers like the Gap Inc. and Walmart refuse to sign and they have their arguments that you can read here and here.
If you want to also read the 6 page Fire and Building Accord (like I did) that these retailers will not sign you can do so HERE and then I would encourage you to let them know how you feel about it.
The Bangladeshi government says they are reforming labor laws so garment workers will be allowed to form unions without obtaining the permission of the factory owners. If this policy is enforced this will be a tremendous step in worker rights for Bangladeshi garment workers.
What Can We Do?
What can you or I or any ordinary consumer do in such a problem that is so massive and complex? We as customers are IMPORTANT PERIOD, don't forget that!
It starts with being honest-I know this is probably the hardest step but ask yourself hard questions. What are you okay with? What are you not okay with? If building fires like the one in Rana Plaza happened here would you be okay with business as usual?
Use your voice. I've written to countless of sites asking for more information about their garments…the term used frequently on websites is "Imported", and that says nothing of the garment's origin to me. If there is not enough information on a site for you write to the retailer, let them know you want to know where your purchases come from.
Support businesses that are doing ethical work in Bangladesh and elsewhere. The reforms that the accord would bring would make their practices ethical, but there is more than that there is fair trade. Fair trade companies provide living wages opposed to minimum wages plus adhere to strict safety regulations. A great list of 9 Bangladeshi fair trade companies HERE.
If you're a parent, teacher, educator, or student talk about this with your kids or in your classes! You can find some great learning exercises on the New York Times' Learning Network here.
Young people in schools right now will be the change we need for the future. Thinking critically about where clothing comes from in your junior high or high school years will inform how you think about it as an adult.
Lastly! I wrote a kind of starter kit to shopping ethically…tips, trick, the challenges you will face. You can find that all in my Ethical Shopping 101.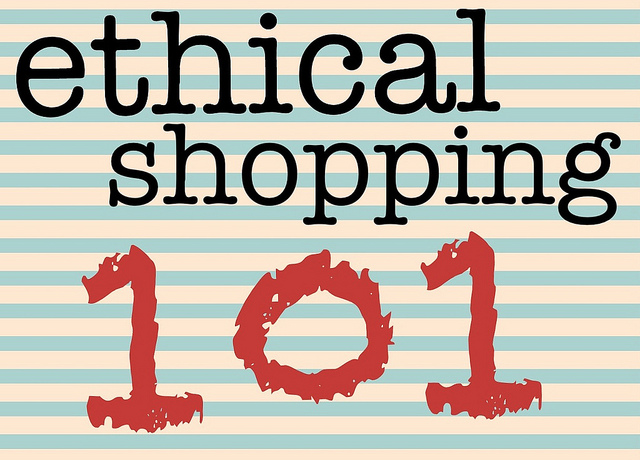 The garment boom in Bangladesh really spiked in 2005, so it is still fairly new and so while I know it's a long road, I'm hopeful.
I would love to know how the incident in Bangladesh makes you feel about your shopping practices?