So friends Mother's Day is this Sunday! It's one of my favorites because I'm lucky to have 2 wonderful women as amazing mother figures so I'm always racking my brain to get them something very thoughtful to make them feel super special.
BUT sadly I tend to last minute shop! Bad habit, I know! But luckily all of these ethical mother's day gifts can be shipped with time to spare for Mother's Day this Sunday!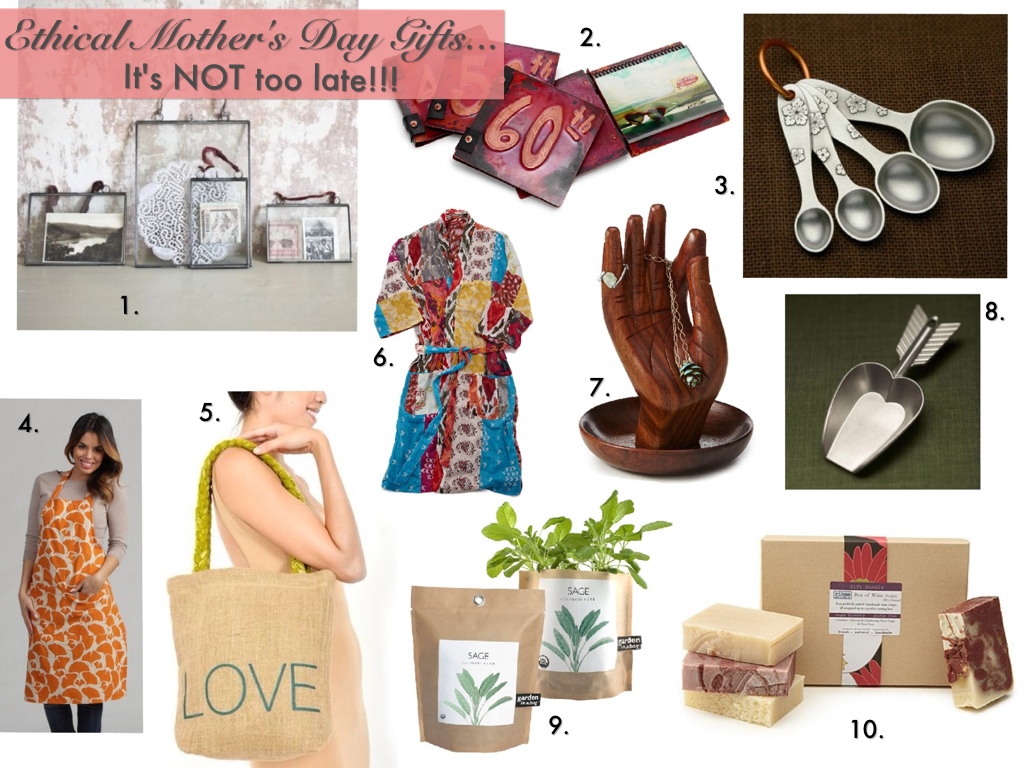 1. – Kiko Glass Frame Medium-$27.95: It would be gorgeous to put pictures from a special trip or souvenirs from your childhood and give a little set of these gorgeous frames to your special mama.  Plus these are made from recycled glass in a fair trade cooperative in India.
2. – Milestone Years Handmade Copper Photo Albums-$56.00: If your mama has hit a milestone year, I think it would be great to fill this album with pictures of her life. These albums are handmade in San Francisco.
3. and 8.-Blossom Measuring Spoons $47 & Heart Flour Scoop $46: I love the idea of incorporating these beautiful kitchen tools that are handmade in the US in a recipe or food themed gift for the mama who loves to cook.
4.- Gingko Apron-$17: I just love this apron so much, PLUS aprons are total life savers!! Everyone needs a pretty apron in their kitchen!
5.-Love Carry All-$32: Stuff this tote with all your mama's favorite treats! A great book, a copy of her favorite magazine, a great bottle of wine and take her out for a relaxing day at the park.
6.-Upcycled Cotton Sari Robe-$58: Robes are kind of great go-to gift because for me they feel like a treat and they can be really beautiful. This fair trade upcycled robe is a great welcome to the Spring weather.
7.-Hand of Buddha Jewelry Stand-$35: Give your mama a beautiful place to put her jewelry, and this lovely jewelry stand also goes to help skilled but struggling artisans in India.
9.-Garden in a Bag-$9.90: Fresh herbs always taste the best. If your mama is apartment bound I think giving her a little fresh herb garden is a great gift…and it's a gift that will keep on giving!
10.-Set of 4 Wine Soaps-$28: These all natural and cruelty free soaps are such a charming gift your mama happens to be a fan of wine. Made with also almond oil and coconut oil I bet these soaps smell dreamy :).
All these items have speedy shipping options, really lending a hand to us last minute shoppers! So it's not too late to get your mama an ethical gift this Mother's Day!