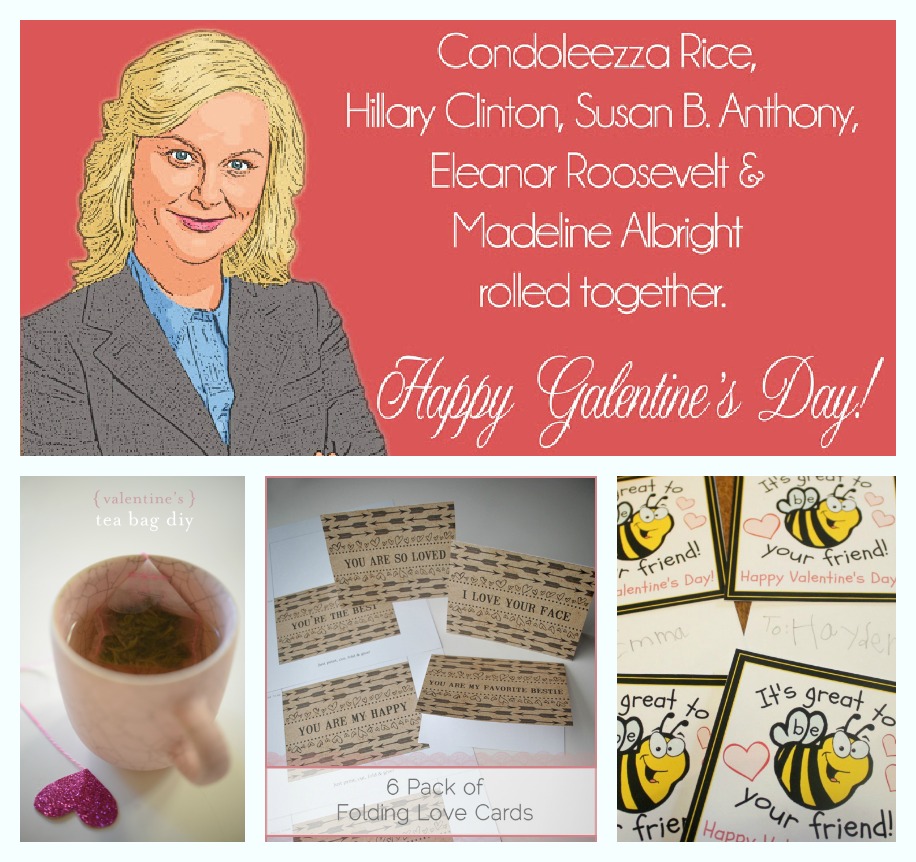 For me Valentine's Day is not reserved just for your lover. It's a day about all the lucky loves you have in your life; your friends, your family,  your favorite coworker.
Valentine's Day really gives you a great moment to show that you appreciate them and I encourage you to do so!
Valentine's Day Free Printable Cards
(printable available here)
I am dying for these cards!!! If you don't know what Galentine's Day is please go now and google! These cards are amazing and perfect for your Parks & Recs super fan (ahem me).
(printable available here)
I am loving these super sweet printable series from Kind Over Matter. Another great option are the wine tags! Be sure to check them all.
(printable available here)
I'm pretty sure this adorable bee card is meant for children, but I absolutely think it would be so charming for a friend or a coworker.
Nothing says I love you like "You are so freaking awesome" :D. I really am crazy for the typeface on these cards…pretty and simple.
Easy DIY Gifts
DIY Tea Bag
(instructions available here)
These tea bags are so super elegant. You can make one, a couple, or a few for a loved one and custom the tags with their names, something sweet, or something silly.
DIY Bookmark
(printable available here)
Bookmarks are actually my favorite gift to give and receive. They're simple but can be full of thought and it's an item that someone can actually use!
Take Valentine's Day as an opportunity to tell those you love you appreciate them! Even if you're not going to send one of these lovely items, send a sweet text, or tell them how great they are in an email, or send them a youtube video that you'll know they'd enjoy.
It really only takes a few minutes of your time to make someone feel special.