Hi friends! Happy Monday! I have a couple of special reasons why I heart the internet this week that I had to share with you :).
First off, one of my fave fave fave faaaave DIY/Craft sites Crafting a Green World included my lace cutout blouse DIY in their Top 5 October Green Crafts Showcase!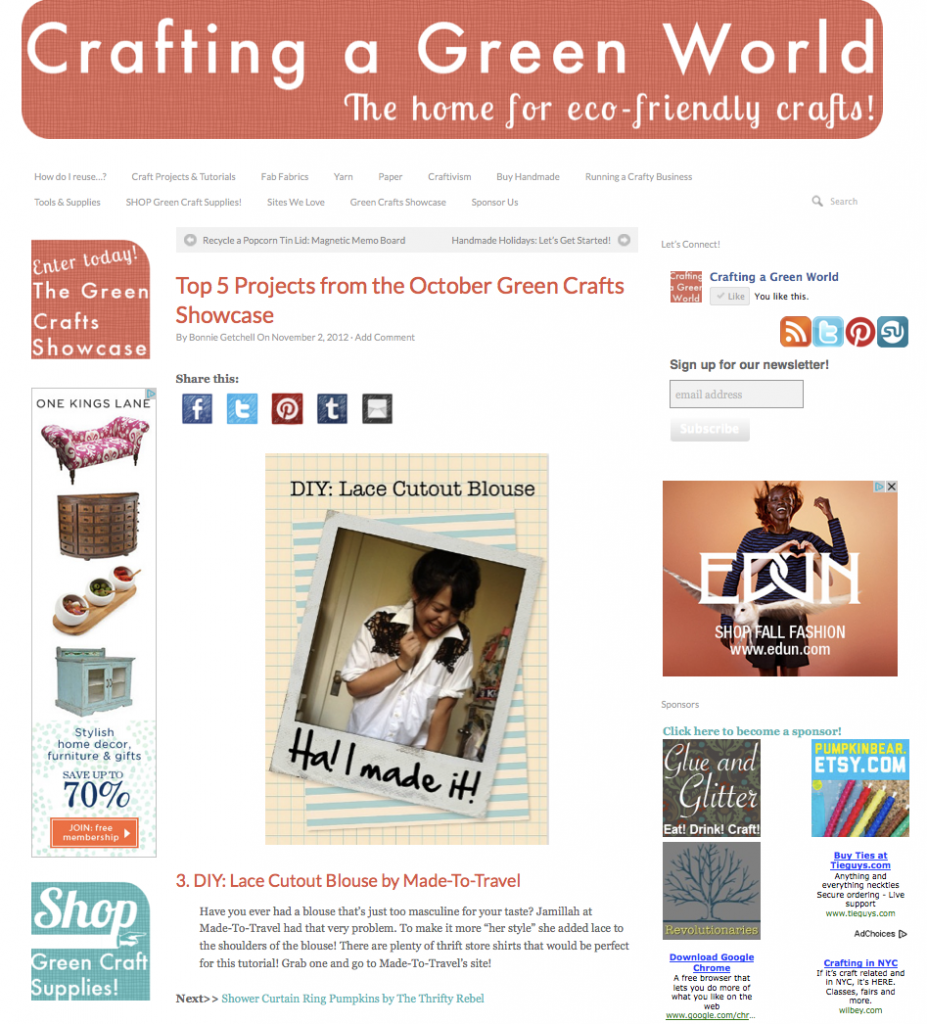 Secondly!!!! My Ethical Shopping 101 made it onto Independent Fashion Blogger's (IFB) Links á la Mode. For the record this post is one of my favorite posts, if not my most favorite on this blog…I worked super hard on it and it really made my day to see that IFB saw value in it and shared it with the independent fashion blogging community.
Be sure to check out the other links! And have a wonderful week, friends.
Links à la Mode: The IFB Weekly Roundup
By: Taylor Davies
Happy Halloween!
Edited By: Taylor Davies
I want to start this week's Links a la Mode by very quickly and briefly sending out thoughts and prayers to those most severely affected by Superstorm Sandy. We had a lot of great submissions this week, many of them Halloween themed! From Beetlejuice pants to costumes a la Anna Wintour and Victoria Beckham, and appropriately dark black lace. We also had some very thoughtful, introspective posts on the self, personal style and a blogger donating her hair to locks of love.
LINKS À LA MODE: THE IFB WEEKLY ROUND UP: NOVEMBER 1ST
SPONSOR:
Shopbop Handbags: Bing Bang, orYANY, Ferragamo, Giejo, Noir, J Mendel, Hobos, Lolli, UggVelvet & Cosmetic Pouches