Hello my lovely friends, so last week was Fashion Week and now that it has come and gone I wanted to share my 2 fave moments of the week.
First off the kickoff of Fashion Week, Fashion Night Out. If you have not experienced the full on frenzy that is Fashion Night Out in NY I would recommend you frolic and have a great experience. But because I've really done FNO to the max in the past and am a little more easy going in my older years I typically choose to do one thing and go for it :). This year it was EcoSalon's FNO Event at the Textile Arts Center.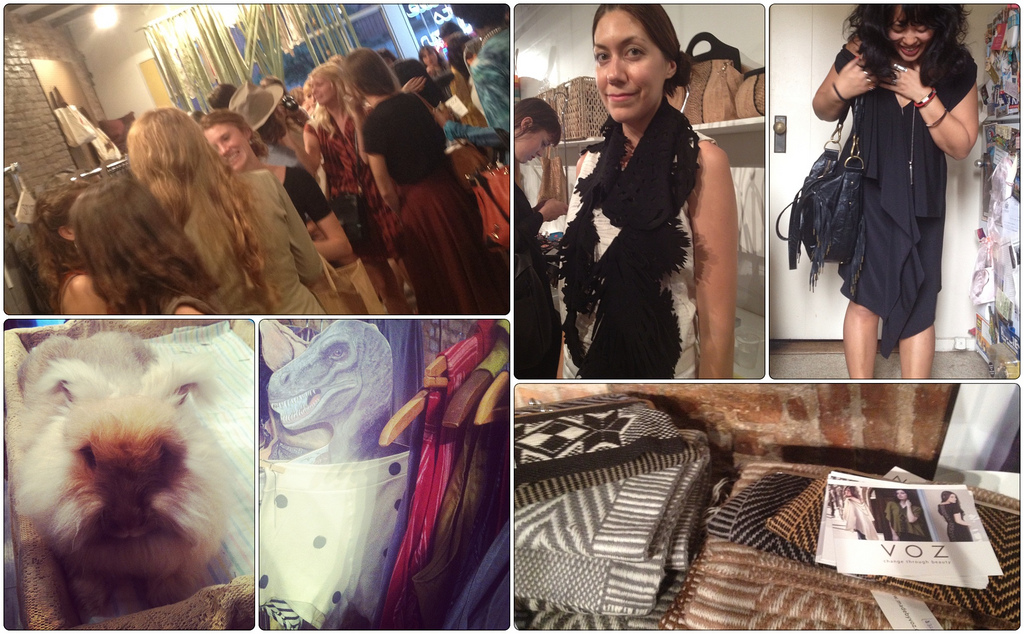 (my outfit: dress-meg; necklace-falling whistles; bag matt & nat via ethical ocean)
A couple of familiar faces to made-to-travel were there including Megan of Afia (you can read my post on Afia here) and Jasmine of Made by Voz (you can read my post about Voz here). Both lines were selling their wonderful goods along with some designers I have yet to see. Including the amazing artistry of Eko-Lab, pictured above is Melissa Kirgan in a black scarf; the scarf she's wearing is made of recycled cashmere, laser cut by an artist it is incredible in life.
But the line that immediately caught my eye was State by designer Adrienne Antonson. Adrienne takes discarded items and gives them a new life that's rooted in functionality and kind of a men-sy hotness. I bought the below smock and am in love with it! I am a really big big fan of deep pockets, I just love how functional they are and how much interest it gives this little smock; it is also super sexy in a easy kind of men's inspired way to me :). I actually wore the smock alone  later that week to a work function and got loads of compliments on it.
(outfit: black dress-clothing swap; smock-state; shoes-thrifted via buffalo exchange)
I wore my State smock to Nolcha Fashion Week. Nolcha is the leading event for independent fashion designers to showcase their collections during fashion week.
ZOMG! Can you see friends that we were in the front row?!?! We were both super stoked after being seated and seeing where we would be; I have been to my fair share of shows but never in the front row and it's true the experience is so different! YOU CAN SEE EVERYTHING! Seeing really labored pieces this up close was a real treat, and  a stellar moment that I wanted to share with you.
Thank you dear friend Meredith for bringing me as your date :), and for sharing your pics from the EcoSalon event with me. You are just the cat's meow! This is the darling Meredith of the Daily Muse, be sure to visit her there she is just the greatest.