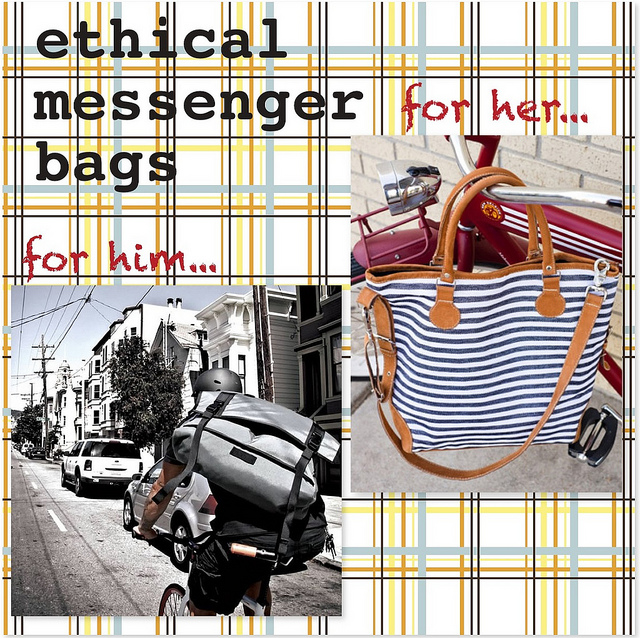 So friends, I had a request from the sharp dressing, well-traveled Kionon for ethical messenger bags and I had to oblige. My BF is actually excited because I haven't really done something that included the fellas in a long while, so thank you so much Kion for suggesting it!
For Him…
Mission Workshop makes very true messenger bags (above is The Shed) with tons of cool features. They are all weather proof and made to easily swing on and off your back and has tons of pockets for all your needs. Even if you're not on a bike these bags made in the U.S.A are really clean the colors are very accessible and comes with a LIFE TIME warranty.
This bag from GenuineGoods786 on Etsy is handmade in India with vintage leather. I LOVE LOVE LOVE the classic color and the worn look of the bag. As a disclaimer not all the bags in this shop are made of vintage leather, but I read the story behind the maker and was really touched by the heritage in the craftsmanship. You'll just have to read it :).
This bag from Smateria is made using fair trade practices in Cambodia. I actually think this messenger bag is BRILLIANT! Construction companies in Cambodia buy loads and loads of mosquito netting to protect their sites. The spools of netting that are disregarded for whatever reason are bought by many people to use for fishing, protecting livestock, and now Smateria to make these bags. Pretty awesome :).
For Her…
The My Catch All Bag from Noon Day is just so wonderfully classic, the bag is hand woven using fair trade practices in one of their many artisans communities. I think I just might have to own this one :).
This vegan messenger bag by Isabel is available at Fashion Conscience (love this site :)). I think it's classic but modern with all the hardware and the color options. I included 2 pictures because the standalone image doesn't really give a good impression of the size of the bag which I think is great.
Out of the bunch this Aura Que also available at Fashion Conscience is probably the most me. The bag is a bit urban and tribal, handwoven at fair trade cooperatives using Nepalese materials such as hand-knitted banana yarn, hemp, handmade brass fittings, hand-woven cloth and high quality buffalo leather – a bi-product of the Nepalese food industry.
This bag from Sourced Life on Etsy is a really modern version of a classic shape. This UK family-owned company makes fashionable bags and accessories out of disregarded truck tarp material and billboards, since this kind of material is meant to withstand a lot of weather I feel it's such a great source for bag material! I also love the colors, they are super primary and come off really bold. I completely recommend you go check out everything they have to offer at their shop.
So friends, that is my roundup of ethical messenger bags!!! Please if you are looking to buy something new and looking to buy it ethical shoot me an email: made-to-travel(at)outlook.com.
I would love to hunt it down for you :).