Last month I attended an engagement party and as I walked out the door I had a tee hee moment because I realized my whole ensemble cost me about $60 bucks!
(dress-thrifted from keiko lynn; bag-thrifted; shoes calvin klein via dsw; arm party-gifted; ring made her think)
I got sooooo many compliments on this dress and it cost me $2 (that's TWO DOLLARS) at the Blogger Closet Raid over the summer. The dress was crafted by the flawless Keiko Lynn and was so marked down because there is a teeny discoloration under the lace overlay that you can't see at all. I could not believe my luck!
I'm also wearing two of my most favorite accessories ever.
Thrifted clutch-I swear this bag goes with everything.
Calvin Klein Shoes…I add these shoes whenever I feel I need a dash of something unexpected.
My shoes and bag are really two things in my closet that are incredibly reliable accessories to make any of my outfits a little more interesting. How about you friends do you have accessories you lean on to make outfits a little more lively?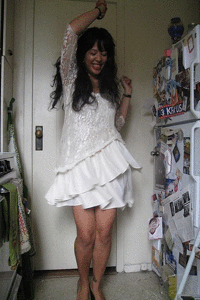 That's right friends, dancing in my kitchen for you!