It's finally starting to feel a little like Spring! Yay!! Tulips are springing up and trees are in bloom, makes me so happy! Time to get ready with some ethical Spring basics to add or forage in your closet.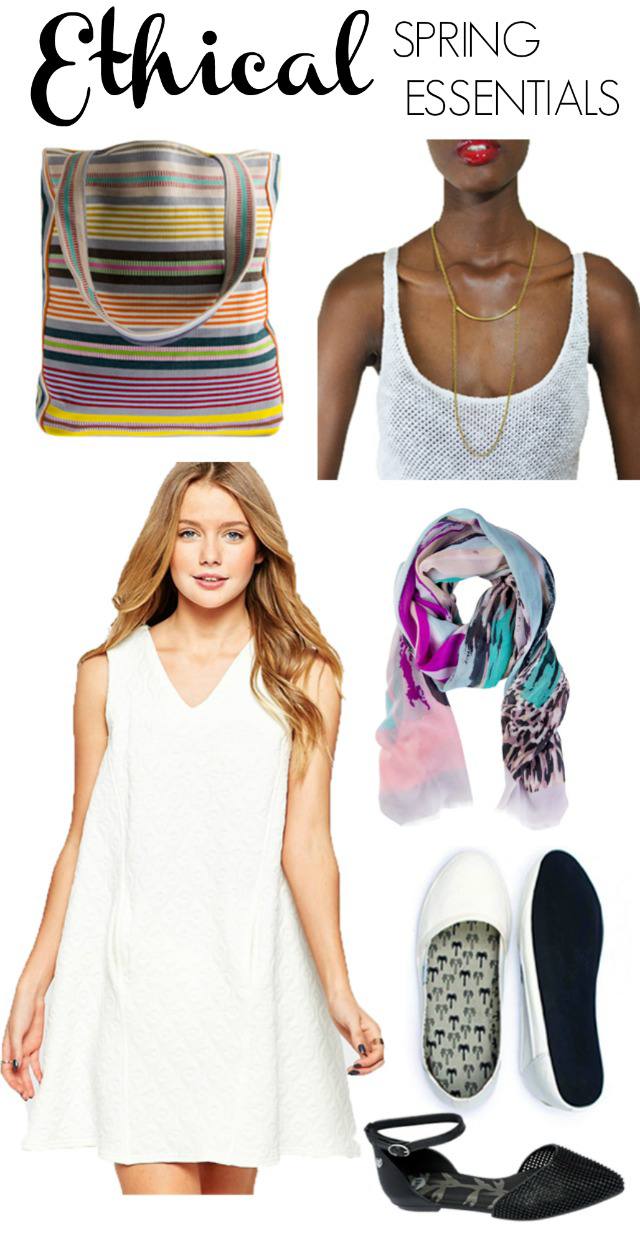 Spring Colored Tote (pixan tote $56): Even if you're wearing all black this lovely tote from Global Goods Partners will add Spring to your outfit!
The Perfect Necklace (double bar necklace $29): I love that this necklace can be worn 2 ways! Time to put away those chunky sweaters and start showing off that lovely neck of yours!
Little White Dress (close quilted shift dress $51): Truth! I totally bought this dress :). It was my Spring treat to myself!  So pretty and versatile, the little white dress screams fresh and Spring!
 Lightweight Scarf (watercolor/animal print scarf $9): I honestly don't think there is a better Spring scarf ! A little pastel, a little animal print–perfect.
White Slides (indosole kepala $55): I actually don't have a pair of breezy slides, another item you can wear with any outfit that automatically transports you to Spring time and totally on point with the athletic trend.
Black Pointy Flats (pitanga shoes $19): Everyone needs a pointy black flat, an easy go to once you retire your boots for the season—BYE BOOTS!
So friends, do you have any Spring basics to add? What items do you have that transports ouftits to Spring? PS–Love a season where there are no sock required!
Have a GORGEOUS weekend!