Well, officially COLD in NY which makes this end to my mini-series on transition pieces very aptly timed! I love a little lace, since I dress on the urban side, a little lace adds femininity and sexiness and for Summer it's a natural choice. But I have to say I LOVE lace during the colder months too–lace brings a dreamy unexpected texture to fall outfits that I really really dig. So here are some ways to rock a lace dress in Fall, enjoy!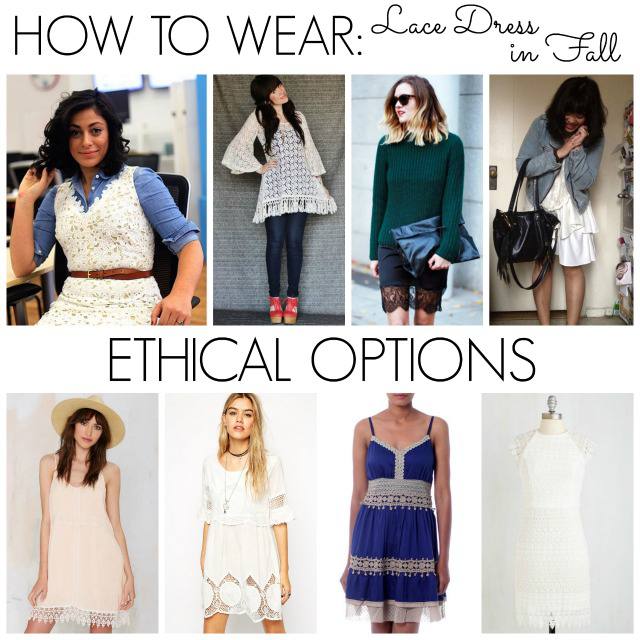 Tips-How to Wear a Lace Dress in Fall:
Wear a Shirt Under!: I love this unexpected combo! Brings a little sharpness to a lace dress too–totally want to try this look.
Add Skinny Jeans or Leggings: Keep the silhouette slim underneath with skinny jeans or maybe some faux leather leggings, totally gives a lace dress new life.
Treat Your Dress like a Skirt: DIES for this sweater and slip like lace dress combo. The juxtaposition with the heavy textile really makes the lace shine. LOVE!
Throw a Jacket/Blazer on It: This might be the obvious choice, I actually wear denim jackets like blazers a lot in the fall–totally one of my favorite secret weapons.
Inspiration Photos: Loft Instagram; A Beautiful Mess; WhoWhatWear; Made-to-Travel
Ethical Options: Lighten Up Crochet Dress $40.60 // Vintage Smock Dress $40.50 // Handcrafted Lapis Lady Dress $59.99  // Rooftop Soiree Dress $89.99
That wraps it up!!! Did you find new lives for your Summer, clothes? I hope so! Keep warm, dears :).