We're well into the Fall weather in NY and nearly done with my mini little transition series. I know culottes are not for everyone but I happen to love a good culotte and think that worn right they're a super versatile item.
Culottes were a big trend for the Fall 2015 runway shows but I actually think they're not really a trend item. Culottes can look super classic while being a little fashion forward and they can be breezy in the Summer and dressed up for Fall —so essentially the perfect transition item.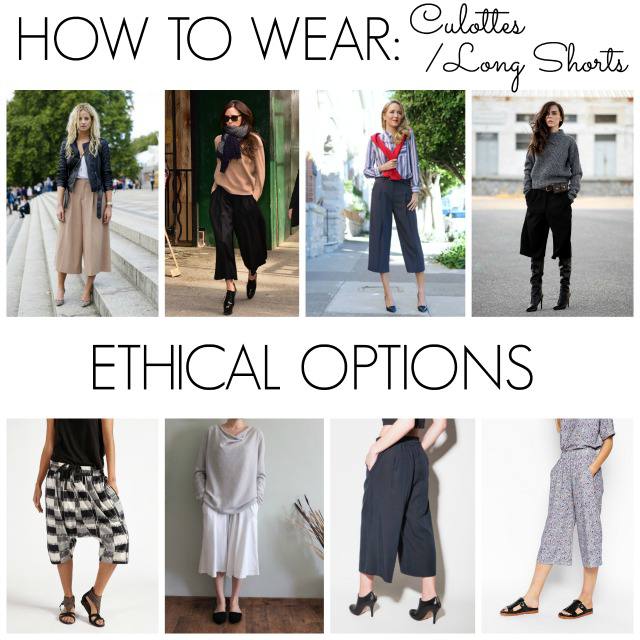 Tips How to Wear Culottes in Fall: 
Add a little heel!:

A little heel goes a long way! I've seen culottes with sneakers and flats which I think is super cute too. But if your a culottes beginner a little heel whether on an ankle boot or kitten heel will lengthen your legs and keep the look super feminine.

Fitted top:

Since your getting a lot of volume with a culotte, a fitted top keeps your silhouette shapely.

Or tuck it in!:

I'm not the biggest fan of super fitted tops in general, I would opt for tucking an oversized sweater or top in. While that may seem like a lot of volume I think the exposed ankles and the emphasized waist give enough femininity for me.

Experiment!:

I would never ever have thought to add some hot boots that cover the ankle like in the upper right picture above, but man that is DOPE! And I will definitely be trying it!
Inspiration Photos: Stylecaster; The Fashion Spot; Memorandum; Mod-Mag
Ethical Culotte Options: Raka Raven Shorts $99 //Wide Leg Guacho/Culotte $65 // Tencel Culottes $71 // ASOS Africa Culottes $26
What do you think, friends? Culottes something you want to give a try? One more transition item to go! Happy weekend, dears!