The shirt dress is probably my most favorite item of clothing–bold statement, I know (!)– but I've been dying to share shirt dress outfits for Fall!
A shirt dress is just such a great piece for all seasons! In Summer it's breezy without being super casual or exposing and I think a great shirt dress can be dressed up or down and is modern, subtle kind of sexy and totally classic. Now(!) here's how to layer a shirt dress to carry you into the cooler weather.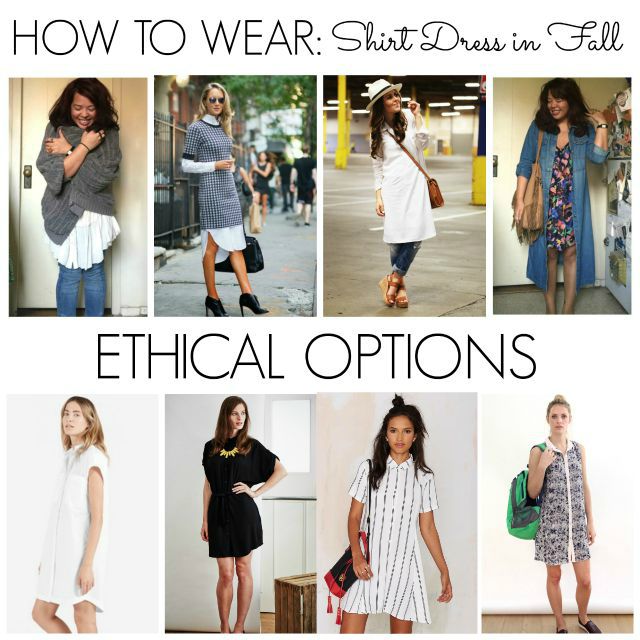 Tips for Shirt Dress Outfits in Fall:
Treat It Like Any Shirt!: Just layer your shirt dress like it's a longer shirt or tunic. HOT TIP- for me it helps to wear a bit of a heel since it elongates me and allows me to get away with a longer blouse situation like the photo above.

Shirt Dress + Sweater Dress!

: OMG! How did I not think to do this?! I love the way the shirt dress peeks out of the sweater dress like the traditional preppy combo…SO CUTE!

Over Jeans:

So easy to just throw some jeans on and wear your shirt dress over jeans…again I would recommend a heeled situation here.

Layering Dresses

: You may know a dress on dress situation is one of my new discoveries over the summer, but doubling on dresses works GREAT in the fall too and the shirt dress is the perfect dress to play with for layering.
Inspirations Photos L-R: Made-to-Travel,  Satorial Flair, Dress Cori Lynn, Made-to-Travel
Ethical Shirt Dress Options L-R:  Everlane $75 // Fairly Made Lexi Shirt Dress $91.16 // amour vert Silk Shirt Dress $85 // Straight and Narrow Shirt Dress $58
Do you guys love shirt dresses too?! Did these shirt dress outfits give you any ideas to mix them up a bit for Fall? I have 2 more Summer to Fall transition items to go! You can see Transition #1 on socks and sandals HERE.