Wah! I can feel the season changing! The evenings are getting dark and there's definitely a chill right now in NY. To make the transition easier I've gathered 4 different items that you can take from summer into fall–Transition #1 Socks and Sandals.
I know that this style is not everyone's cup of tea. An easier transition is stockings and sandals, BUT I happen to LOVE a good socks and sandals situation and because I'm naturally adverse to pants I am totally going to try to rock this look in fall.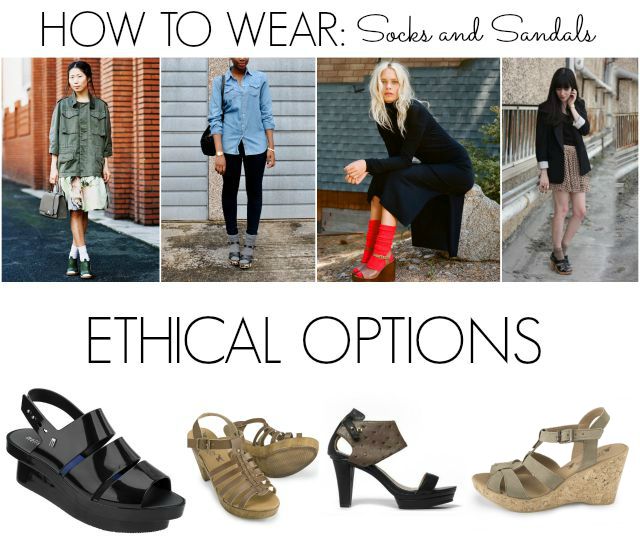 Tips for Wearing Socks and Sandals:
Make it a Heel: I've seen ladies rocking socks and sandals in flats, but they are 10 feet tall models! There is no way I feel it looks right on me, but a nice stacked heel—that I can totally get behind. Since socks can cut the leg line, a little bit of height added will compensate 🙂

Make it Neutral

: Grey, black, and brown to compliment/coordinate with your outfit can make socks and sandals look totally natural add to an outfit.
Make it a Classic: NOT GYM SOCKS! But cute white socks like the above is a totally classic prep school look I love.

Make it a Statement

: Socks don't have to be just something to keep those tootsies warm, use them to add some color to an otherwise all neutral outfit like the picture above, so chic and totally surprising.
(inspiration photos L-R via: WhoWhatWear, peanut butter trysts, Visual Optimism, Lookbook/Fashion P)
Ethical Options L-R : Melissa Style $37.50 // Novacas Beatrice Cork Sandal $89 // Cri de Coeur Emerson Ankle Cuff Platform $89.99 // Novacas Natasha Sandal  $112
Friends, what do you think of socks and sandals? Do you dig this look? Do you hate it!? Personally, I'm excited to try it! I'll need to step up the socks game, but that's a totally inexpensive investment I'm willing to make!
Look out for the next 4 items to transition soon!