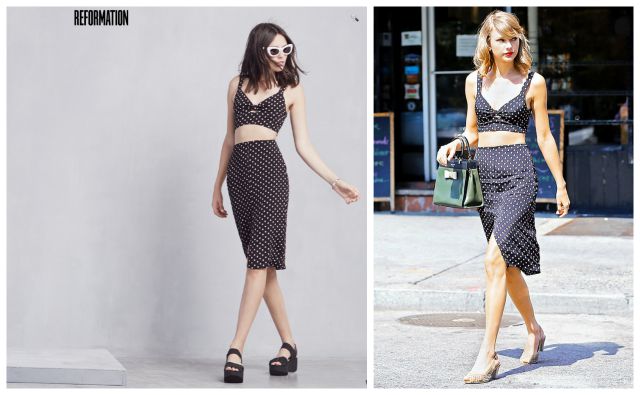 (clinton two-piece-out of stock-but petite in gingham available – $198 // Taylor Swift via WhoWhatWear)
I love seeing ethical brands in the mainstream media and Reformation has been appearing everywhere–a celeb summer favorite since last year! While a lot of Reformation is totally in the "treat yo'self" category for me, I really do love the vibe of the super sexy, super modern clothing line and looking to treat myself not too far in the future :).
What Makes Reformation Ethical:
 Dedicated to sustainability. Making clothes out of surplus rayon (like this jumpsuit) or surplus cotton (like this dress) in green offices and factories, plus Reformation is a B Certified company. You can see their sustainability practices here.
They make thoughtful and fun collections like the Don't Call Me Cute–their petite line and  Low Carb Collection–that's carbon emissions ;).
MADE IN THE USA and they own their own factory–YES! You can tour their factory here.
(rhodes dress $88 – Rhianna via New York Post)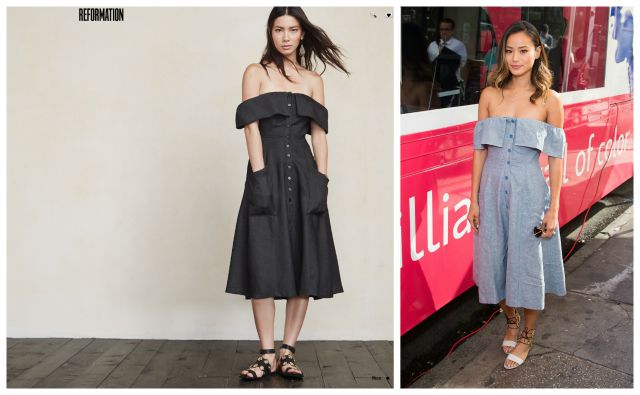 (mariana dress-out of stock-short version available $168 / Jamie Chung via PopSugar)
Pretty hot stuff, right? I'm pretty stoked to see this young ethical label has gotten so much love! Check out other celebrities rocking Reformation on The New York Times, PopSugar, WhoWhatWear, and the NY Post. They've been elsewhere too! Yay Ethical Spottings!