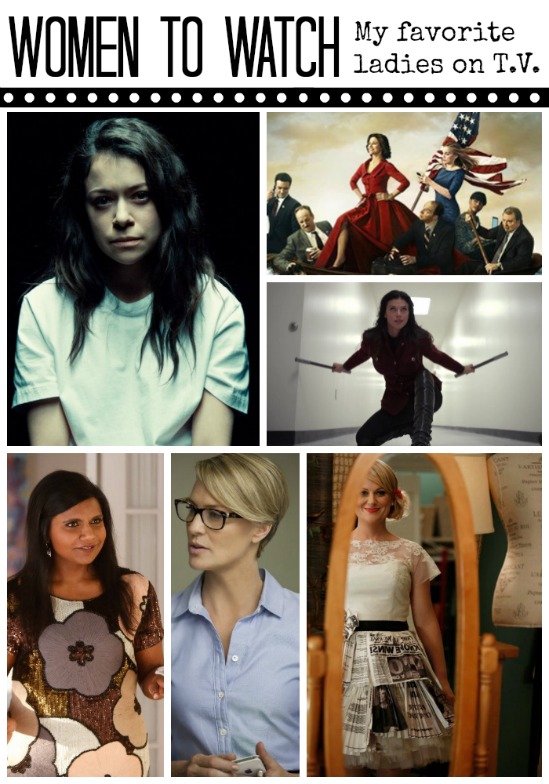 I really do believe we have A LOT of really special scripted TV right now and many many of my favorite shows are on mid-season break. Hopefully you feel like resting after all the festivities so it's the PERFECT time for you to go on demand or Netflix or wherever you can and get to know these amazing women on TV right now!
(photos via : comingsoon.net; BBC; IMDb; Marvel Wikia; IMDb; The Gloss)
Leslie Knope of Parks and Recreations
It's worth saying that there are some pretty great women characters on Parks and Recreations (hi Donna and April!) but by FAR my favorite female on Parks and Recreations is the show's fearless leader played by Amy Poehler, Leslie Knope.
Leslie is not only the most ambitious and passionate person on the show, but she's the opposite of too cool for school–which I love! Leslie geeks out and is extra enthusiastic about doing her best and making a difference, being a good friend and in general running things. She has a lot of flaws too, but that's what makes Leslie so darn lovable.
Parks and Recs is in its last season (WAAAAHHHH!) so binge watch and enjoy the show while it's here :(.
(photo via  TIME)
The Women of Marvel Agents of S.H.I.E.L.D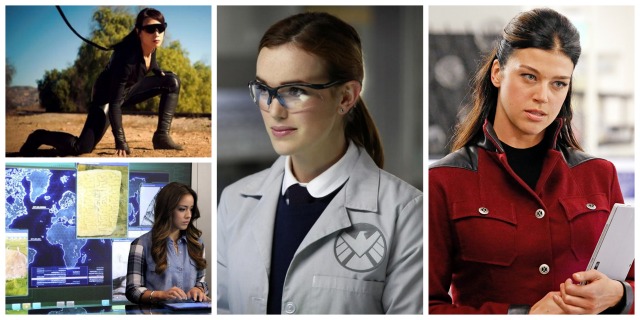 At the risk of sounding like a mega geek, Marvel Agents of S.H.I.E.L.D is my favorite show on television and the fact that there are 4 super awesome (not mutant super) women in the show make it all the better. Although this shouldn't be a surprise since Joss Whedon is known for creating and deftly writing strong, complex, awesome female characters (cough, cough, Buffy).
I couldn't possibly choose one favorite among this ensemble of women, so let's here it for all the ladies of S.H.I.E.L.D! The toughest deadliest operative and Director Phil Coulson's (Clark Gregg) right hand, Agent Melinda May aka the Calvary played by Ming Na-Wen. The team's computer savvy hacker extraordinaire played by Chloe Bennett is the quick thinking and mysterious Skye. S.H.I.E.LD's double Phd holding microbiologist and resident genius is the sweet Jemma Simmons played by Elizabeth Hendstridge. And the newest lady of S.H.I.E.L.D is lauded as one of the best operatives out there: the smart, HOT, and cunning Bobbi Morse played by Adrianne Palicki has been a very welcome addition to a show that was already stacked with great characters.
Marvel Agents of S.H.I.E.LD is only in its second season so go on Netflix right now and watch the first season first! You'll thank me later…plus if you enjoy Marvel movies like The Avengers, you'll LOVE how Marvel Agents of S.H.I.E.L.D ties in the whole Marvel Universe.
(photos via IMDb; IMDb; Marvel Wikia; Entertainment Weekly)
Mindy Lahiri of The Mindy Project
Dr. Mindy Lahiri of The Mindy Project played by the writer and executive producer of The Mindy Project Mindy Kaling, feels like a friend I have in real life already! You know that friend who is absurd but awesome, brilliant but also does some terrible decision making…yeah that's totally Mindy and you'll love her.
You'll love Mindy because she's loyal, optimistic, and spacey in the lovable way…plus all her friends and colleagues and love interests make for some hilarious TV.
(photo via Mindy Project)
The Clones of Orphan Black
If you're not watching Orphan Black you're missing the amazing acting acrobatics performed by the endlessly talented star Tatiana Maslany. I really wasn't super keen on checking out this show, but after reading and hearing rave reviews I watched one episode and then of course all of them in a week.
Yes, it's sci-fi (duh, there's clones) but it's totally more than that. The clones of Orphan Black are all complex and despite all of them being played by one exceptional actress, they are soooooo different… they laugh different, cry different, smile different and their lives and personalities are so so different!
Catch up on Orphan Black before the show's return in April!
(photo via  Hello Giggles)
Claire Underwood in House of Cards
House of Cards is not a show I'm typically attracted to, I tend to be drawn to upbeat shows with lovable characters and the characters in House of Cards are actually despicable and super duper shady, but I am addicted to it! I binged watched season 1 and then binged watched season 2 as soon as it was available.
Claire Underwood, played by Robin Wright, for me, is the most fascinating character on the show. Just as ambitious and sinister as the show's lead Frank Underwood, played by Kevin Spacey, but without being kind of a stereotypical witchy woman character. Wright plays Claire Underwood in this quietly powerful way, she's a snake in the grass and in every scene you won't be able to take your eyes off her.
(photo via The Gloss)
Selina Meyer in Veep 
If you're wondering why Julia Louis-Dreyfes has won 3 Emmy's for playing the lead role as Selina Meyer in Veep, then I would have to say you obviously have not watched Veep.
If Parks and Recreation and House of Cards had a baby that baby would be Veep, every character on the show is so flawed and it makes them both hilariously lovable and frustrating at the same time. Louis-Dreyfes' depiction of Selina (the Veep) is amazing and fearless–you find yourself cringing at her decisions while cheering for her and rolling with laughter all at the same time. I have literally been in tears and stomach aches laughing so hard watching Veep!
(photo via The Hollywod Reporter)
So friends, these are the amazing women on tv that I HIGHLY recommend you binge watch right now! I'm super excited that women are getting so many more lead roles that are complex and not all about romantic interests and escapades (although, I do like a good romantic interest/escapade :)). I hope you enjoy them as much as I do! And pleeeaaase let me know who are your favorite leading ladies to watch!