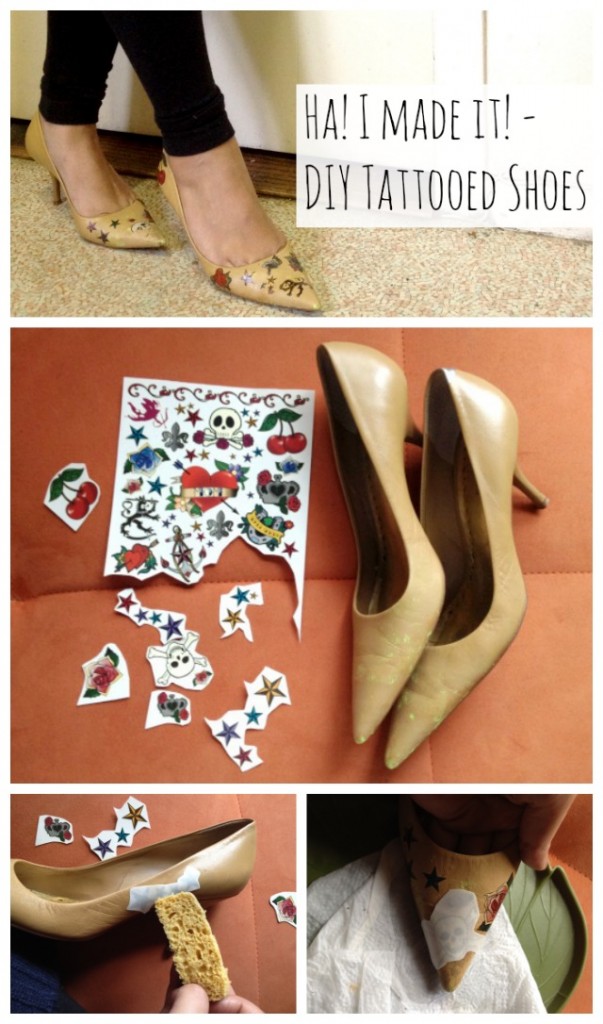 So not every DIY turns out perfect. I had these shoes for a long long while and remember when everyone was painting the toe on their shoes?! Well, I tried that! —it did NOT work out for me. But I really love a pointy kitten heel and these were so comfy and the perfect color tan, I couldn't throw them out!
Then I saw this picture and was inspired and soooooo happy I didn't get rid of them! I headed to Etsy to score some old temporary tattoos!
(photo via Where Did U Get that)
So you'll see my shoes are pretty beat up. They had acrylic neon paint on them, which I removed with nail polish remover, but there are still some remnants of the neon paint plus some damage from the nail polish remover. I was bummed at first the painting left such a mark, but honestly, I kind of dig it with the tattoos!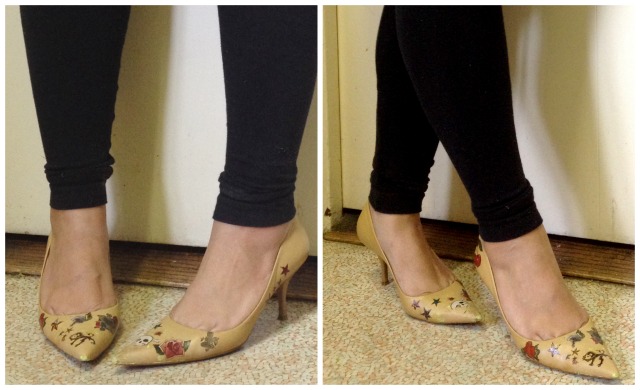 Some Tips on DIY Tattooed Shoes
This did 

NOT

work well on black shoes. The colors just don't show up very much. If you're fine with that then get to it, but I was a bit bummed I couldn't see the vibrant colors of these old school tattoos.
It took some trial and error to find the right timing, ultimately I needed to leave the tattoos on a little longer than you would applying a temporary tattoo on yourself—bout a minute or two longer.
Don't tattoo the same area back to back. The tattoos didn't take well when the area was damp, so go to a totally different area on your shoe or a different shoe and wait till areas are dry to apply.
Now that I know how to tattoo my shoes I can't wait to do another one! I'm pretty sure these will wear well for a while, but I'm pretty excited for when they fade out so I can tattoo them all over again :).