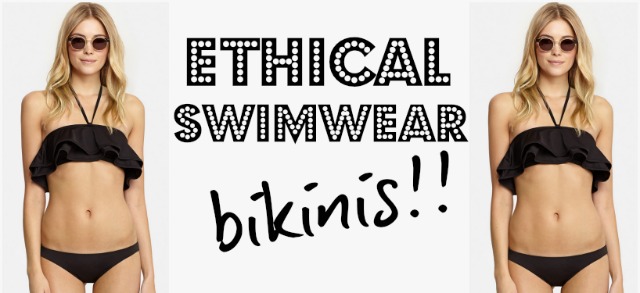 (zinke- reese bandeau $44  georgia bottom $37) 
I can not believe Labor Day is here! In the U.S. Labor Day is symbolically the end of Summer. Wahhhhhhhhh! We've had the most mild of Summers in NY, but hopefully this long weekend will give us a couple of nice summer days for a swim!
So for the last summer dip (!), here are my picks for ethical bikinis!
(top row l-r: nyla bikini $75.68 // loren top-$44 brazilian bottoms-$27 // beach riot- freemont top-$53 monte carlo bottom-$38 //karin top-$64.32 shirred side hipster $48.24 // bottom row (l-r):  cami underwear top-$55 hipster bottom $72 // mirror me bikini $120 // penny top $49 raigan bottom $41
One thing nice about buying swimwear around Labor Day is they are all on sale!! But I actually haven't been to the beach in NY at all this Summer…it's been too cool!! Hopefully a couple of more 90 degree weekends so I can head out there!
Happy Friday, friends! Hope you get to enjoy a nice long weekend!