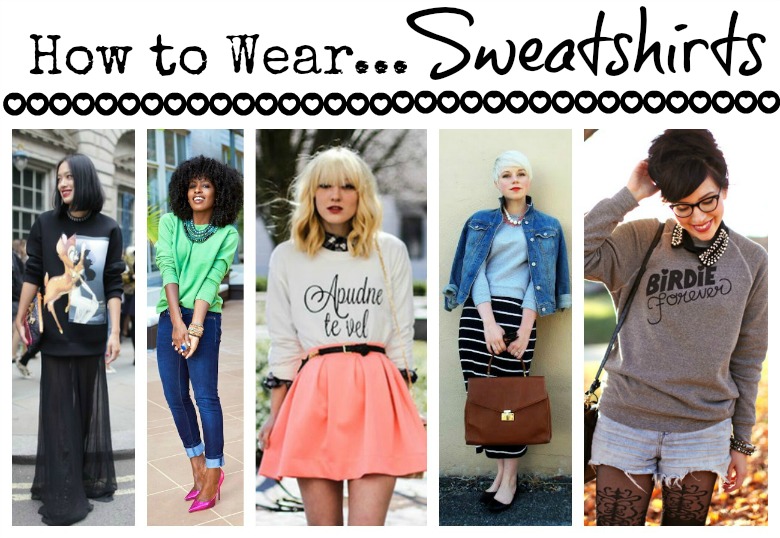 I am in deep deep love with how sweatshirts are looking nowadays :). These lovelies along with the fall runways of 2013 of were all about taking the sweatshirt from lounge wear to street wear.
5 Ways How to Wear Sweatshirts (L-R)
Look 1 (image source): Pair with a flowy skirt. The key to the new twist on the easy wearing sweatshirt I feel is juxtaposition. The right sweatshirt adds a fresh take on a floor length maxi in a second.
Look 2 (image source):  Skinny jeans, a sweatshirt, a bit of sparkle, and most importantly some sexytown heels (preferably pointed toe) adds a little edge with a feminine touch to this simple ensemble.
Look 3 (image source): A circle skirt and a collared shirt underneath the sweatshirt is a genius way to make a sweatshirt super charming. I love the contrast between super lady and a little boyish.
Look 4 (image source): I can not stress how strongly I feel about a good pencil skirt! I love this outfit because the sweatshirt here really lightens up a very traditional, pencil skirt, denim jacket and traditional bag…it takes this outfit somewhere younger and cooler.
Look 5 (image source): And for maybe the bolder girl, patterned tights and some shorts are where it is at! I love the addition of the collar necklace in this outfit, it adds a bit of sweetness to this otherwise very urban outfit. Perfect touch.
So now that we have some ideas on how to wear a sweatshirt, let's take a look at some ethical options.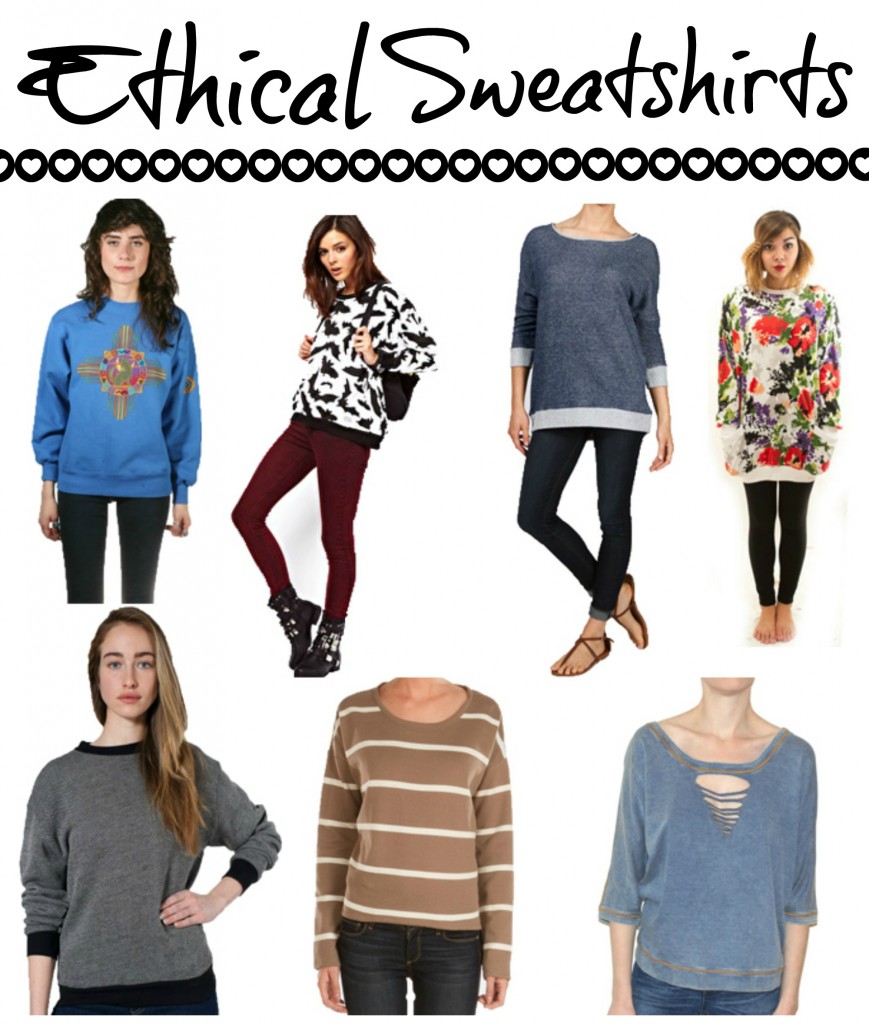 Top Row: vintage blue southwest sweatshirt-$35 / bat sweatshirt–$113 $48.10 / gray sweatshirt w. trim-$44 / over-sized flower sweatshirt-$29 / Bottom Row (l-r): black & white-$52 / striped sweatshirt-$44 / cutout sweatshirt-$65
And now we've gone consciously trending with the sweatshirt! So what do you think friends? Are you digging the look?