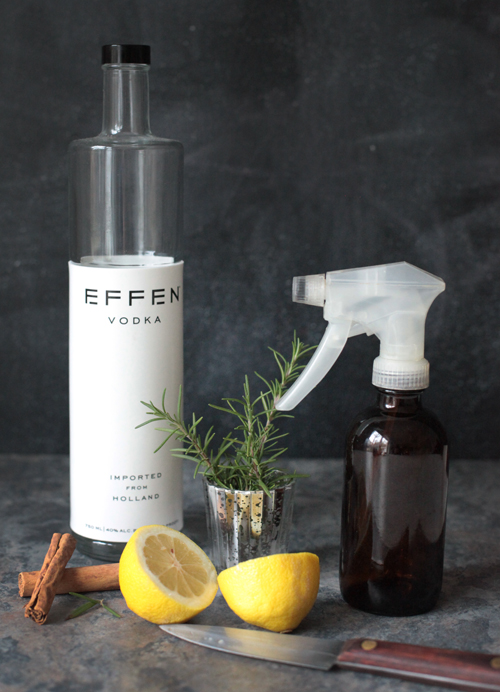 (source: Design Sponge)
Hi friends! So my daddy happens to be in town for Father's Day, quite rare occurrence for me since he lives an ocean away. He's not a man of many things, so it's always a challenge to get him something.
Thank you Design Sponge for the brilliant idea of natural room spritz! Since my daddy lives quite far from me and smell is such a powerful sense for memory, I thought it would be nice to give my daddy 3 room fragrances that could remind him of me, my brother and him.
I happen to already have most of the ingredients needed for the fragrance, but most if not all of these things are really super easy to get your hands on.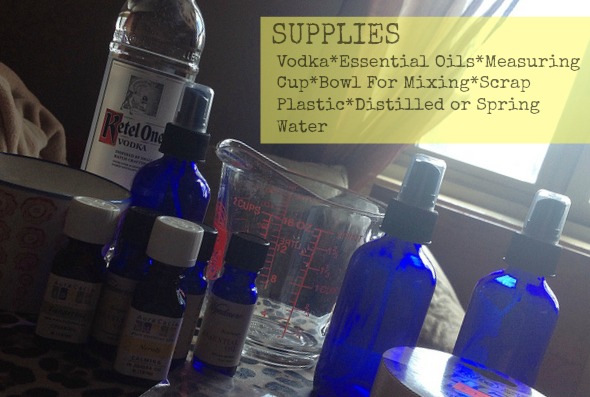 (distilled/spring water not shown-sorry! I totally forgot to put it in the shot)
I pretty much followed the Design Sponge instructions except I lowered the vodka amount to about 1/2 a cup instead of the 3/4 cup. To me it smelled very vodka like with the 3/4 cup, even though vodka is suppose to be odorless, I have a bit of a keen nose for vodka because it is my liquor of choice.
The other thing I did was make my own funnel with a scrap of plastic packaging. This is totally a trick from my boo, who McGyvered a funnel once for me. Totally easy to make your own funnel!
Having the funnel makes it much easier to get your ingredients into the bottle, so I would highly recommend you either using one you have or make a handy DIY funnel like mine. Here are some other tips I would add to the great Design Sponge tutorial.
Mix your oils and vodka in a bowl, then put in spray bottle and top off with distilled or spring water. I found whisking the essential oils and vodka first worked way better than putting the oils and the vodka in the bottle directly.
Play with the scents! Some scents like Rosemary are energetic others like Neroli are calming. So pick a mood, see what you like and don't be afraid to create. I combined scents to my own liking.
Be sure to wash anything you used for essential oils thoroughly! Most essential oils are not meant to be ingested so be sure to clean! clean! clean! the items you use. I am actually super paranoid about this so have decided to just dedicate the bowl I used for essential oils only.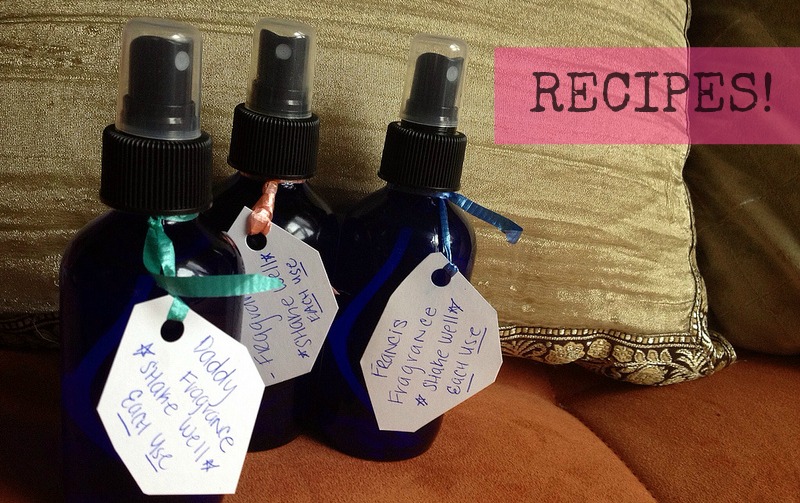 P.S. I don't know if recipes is the right word for fragrances (tee hee), but I couldn't think of a more apt word!
Here are the 3 different scents I made for Father's Day: one that represents my brother, me and my daddy.
My Fragrance: zesty, energetic, citrusy, with sweet finish-essential oils used: neroli * lemon * tangerine * bergamot
My Brother's Fragrance: woody, masculine, energetic-essential oils used: neroli * pine * rosemary * bergamot
Daddy's Fragrance: masculine, piny, earthy, with zesty finish-essential oils used: neroli * pine * rosemary * bergamot * lemon
You'll notice that almost all of the essential oils repeat themselves. Since we're all related and similar in a lot of ways I wanted our scents to have notes that are related, but then have very strong characteristics on their own, much like how we are in real life :).
So what are you guys doing for your dad on Father's Day?