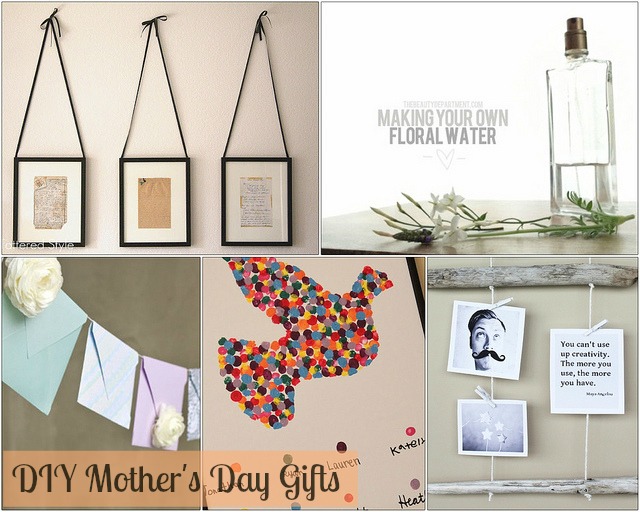 You know I love a great DIY, so I scoured to find DIYs that I thought would make wonderful Mother's Day gifts for your special mama :).
Message Garland
I plan on actually making this for my mamas. Make this easy envelope garland with envelopes you have lying around your home, using all of one kind of envelope or vary them like above, fill them with message to your mama that will brighten her day! Your mama can open them all up on Mother's Day or maybe she'd want to open them whenever she needs a little pick me up :).
Found here, DIY by Studio DIY
Shared Artwork
If you have a lot of siblings this is kind of brilliant. Make a shared piece of art using finger painting. I love that it's a really colorful gift that can represent all of you.
Found here here, DIY by Busy Kids=Happy Mom
DIY Floral Water
Go get your mama's favorite flowers and make floral water for her. She'll think of you whenever she gives it a little spritz, plus she can have her home smelling like her favorite flora.
DIY by The Beauty Department
Recipe Trio
Has your mama passed you down her collection of recipes? If she has why don't you take a few of your childhood favorites and put them in pretty frames for her, it will remind her of you loving to gobble up her food and she'll have a charming piece of art.
DIY by Tattered Style
DIY Friendship Bracelets
Yes friendship bracelets are all over the wonderful interwebs but honestly I have not seen a tutorial so easy as this!!! And I think it would be super sweet to share a handmade bracelet with my mamas, I mean they are definitely bff material ;).
Found here, DIY by Michael Ann Made
Hanging Branch Frame
I don't know about you, but my family has tooooons of sayings. Put your grandmother's favorite words of wisdom, or maybe a nursery rhyme your mama read to you and then couple that with some favorite pictures…makes for a beautiful gift.
Found here, DIY by Mango and Passion Fruit
So friends have any DIY's for your lovely mamas!? I'd love to hear all about them!