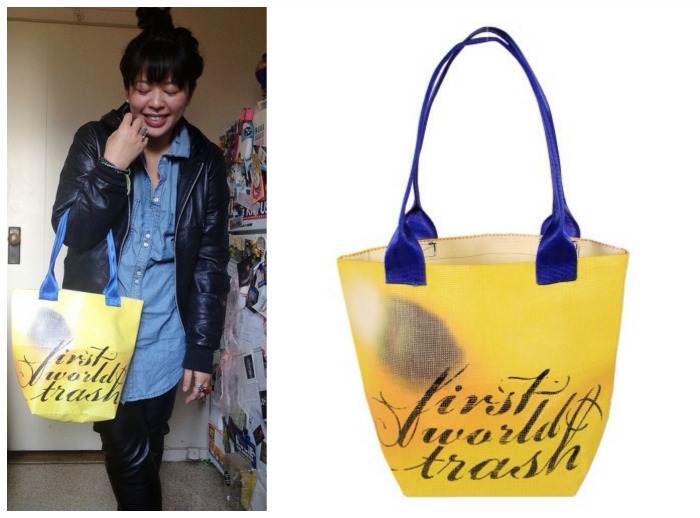 The kind people at First World Trash emailed me to review one of their totes. I chose the fun Lights Beach Tote in slim-$36. As its name suggests this tote is made perfectly for the beach. The Lights Beach Tote is made of recycled vinyl mesh billboards and the straps are made with recycled seat belts. The vinyl definitely makes this tote sturdy enough to keep its shape (important for me!), while the mesh allows for sand to stay at the beach and the seat belt straps are super durable against any elements!
BUT! Because I really do love the shape and the bright colors of this tote I decided to take it out a bit before the summer season.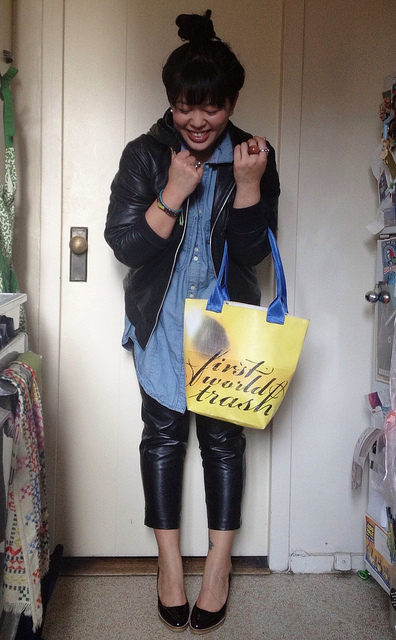 (jacket from-olga road; denim shirt-xxxx; pleather trousers-meg; shoes thrifted via buffalo exchange; tote-c/o first world trash; rings-nissa, flea market find, & gifted; bracelets-gifted)
I had my doubts about wearing my upcycled leather jacket from Olga Road with my faux leather pants from Meg, but my new tote added that bit of color and whimsy to break up all the leather and denim.
I bought the Pender Jacket from Olga Road over the winter and this was my first time wearing it. Olga Road jackets are made by upcylcing vintage leather trenches into more modern shapes like my hoodie :)- you can read more about Olga Road's process here.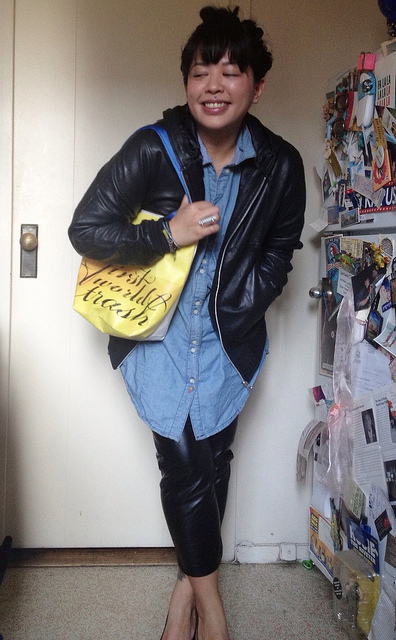 First World Trash also included a pamphlet in their happy package with my tote, the pamphlet listed their products and a bit about the ethical practices and good intentions of this company.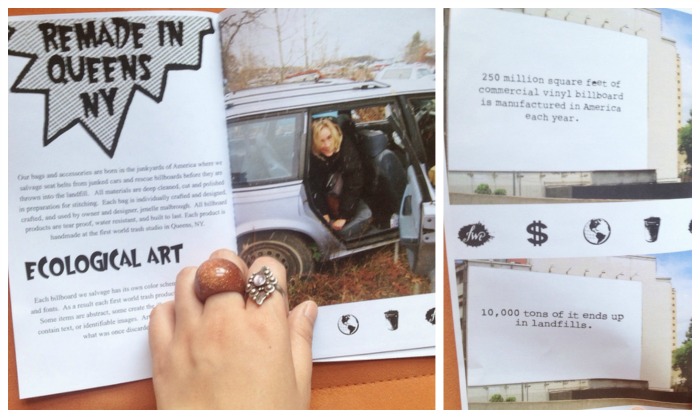 I really love how First World Trash is such a personal company. Material on their way for a lifetime at the landfill are saved and made into beautiful products right in the designers home in Queens, NY.
I have to tell you while I love my tote, my most favorite item in the First World Trash collection is this GENIUS makeup puch.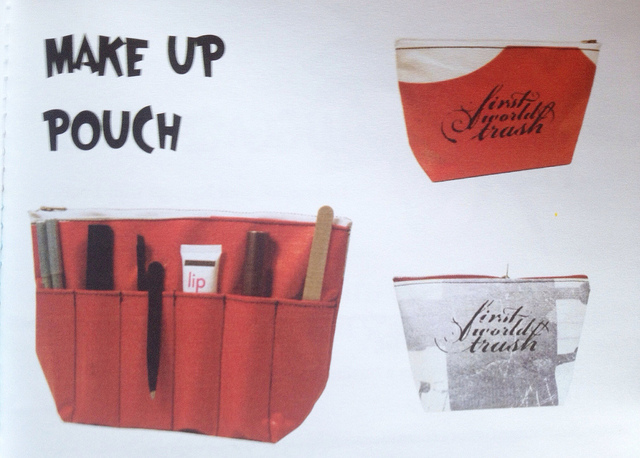 (makeup pouch-$28)
I am absolutely in love with this. It's so super smart that your go to items or lipstick of that day can live in a little pencil pocket outside of the actual pouch for easy access. BRILLIANT! I will own this guy :).
You cans shop First World Trash here! Have a gorgeous Monday, friends.
*I received gratis product for review for this post, but all opinions are 100% my own and honest, please see policies & disclosures page for more info.