Hi friends! I received a beautiful request from a young reader named Alyssa a few weeks ago. The dear Alyssa is looking for ethical prom/evening wear, a fantastic request since I actually don't think I've done a post on evening wear on made-to-travel! And no better time for ethical evening wear than this holiday season where we're inundated with holiday occasions….like the holiday office party!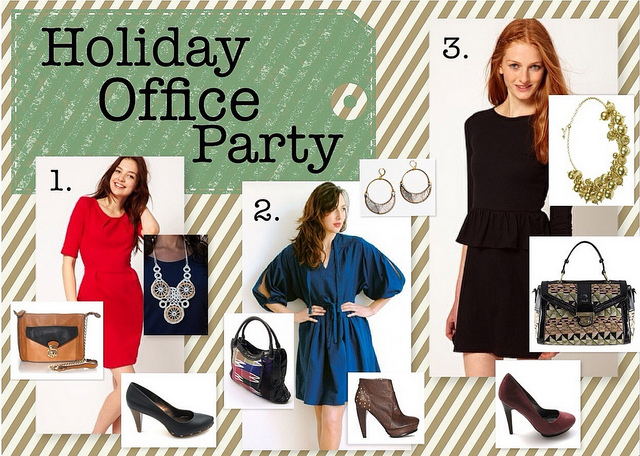 The trick for me personally in office holiday parties is you want to look more special than on your average work day but the look still has to be day enough for work. NO PLUNGING NECKLINES at office party please :).
You'll also notice that I didn't go with an evening clutch, again I go straight from my day at work to my holiday office party so I need to have a bag that works for both!
Look 1: I think there is nothing wrong with donning on holiday colors for your holiday party! And any excuse to wear an attention grabbing red dress is a good excuse to me :).
Look 2: I love also wearing a jewel toned color at a holiday party. Rich colors lend themselves nicely for evening and day time and can be dressed up or down.
Look 3: Yes, yes, the basic black dress always goes a long way. I love the peplum skirt on this dress and adding sparkle and a fierce heel takes this dress to a festive place.
I would like to give a big huge internet applause to Alyssa!!! At such a young age she is already thinking about the impact of being a conscious consumer and I'm really inspired by her. Next ethical evening wear post will be on pretty outfits for New Year's Eve!