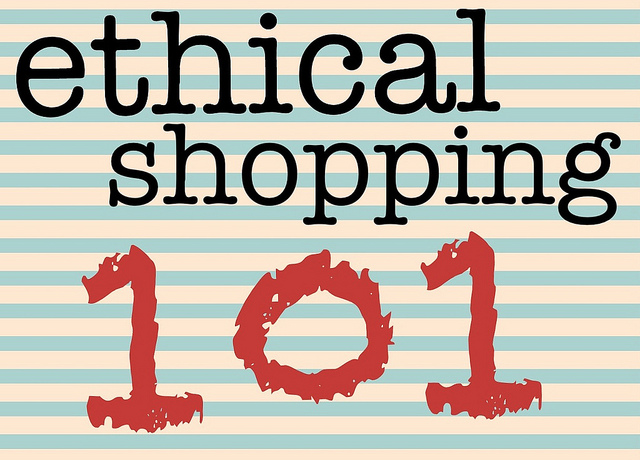 Hi friends! Today I'm sharing the process that has helped me become a conscious consumer with this Ethical Shopping 101. If you've just started to think of shopping ethically you may feel a little daunted about how to start and what to do! And hopefully this installment of Good Habits will help you on your way.
It is massively important that you know I'm not perfect (shocking)! This is the method that works for me and my values and honestly I'm always trying to be better. There are many wonderful wonderful ways to shop ethically and what I encourage you to do is be thoughtful and honest with yourself. I understand that not every cause will be everyone's cause but find the values that are important to you and live by them as best you can.
Now friends! Let's get to it! 🙂
 Start with ONE Thing!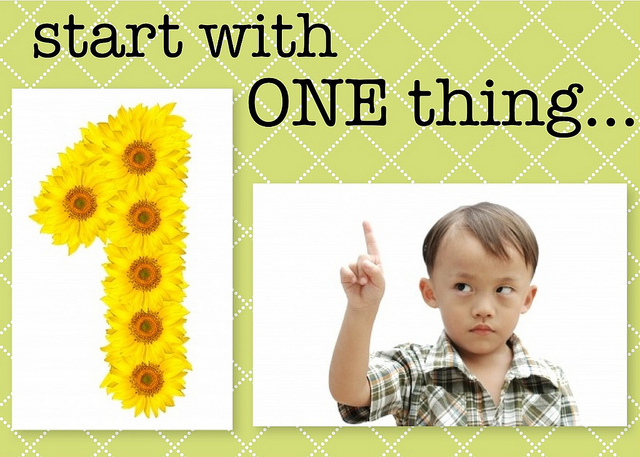 (flower 1 Image courtesy of kangshutters at FreeDigitalPhotos.net / little boy image courtesy of arztsamui at FreeDigitalPhotos.net)
There is no reason to throw out everything you own and go out on a mad shopping spree for all new ethical things–just start with one thing. And what will that one thing be?!?! A while back I interviewed the wonderful Anabella of Missqa (you can read interview here) and I asked her for advice for people just starting to shop consciously and her words to me were, "start with whatever you need at the moment. " And it is soooooo true! And simple, no?!
You need a new pair of boots for winter-look for it ethically… you need a new lipstick for fall-look for it ethically…you need a schmancy dress for a wedding-look for it ethically.
By starting with one thing-whatever you need -item by item you'll start to get into the habit of shopping ethically!
How to shop THOUGHTFULLY
(l-r: woman shopping & woman reading label-images courtesy of Ambro at FreeDigitalPhotos.net; woman in white shopping-image courtesy of photostock at FreeDigitalPhotos.net)
Shopping Online
Thank you future for giving us the internet!! There are so so so many good ethical choices in shopping online; many many sites are straight dedicated to having all ethical brands in their shop!
I honestly don't even know where to begin here because there are just too many to mention, but you can start by checking out my "Ethical Shopping" menu up top, lots of good choices there!
Check the product information on the site-The product information will have what your item is made of and where it's made.
If you want to know… ASK!

I have tweeted questions to retailers and they completely respond, if you want to know about something don't be bashful about asking via email, facebook or twitter.
If you're having trouble finding your wanted item-GET HELP! I will be happy to help find what you're looking for in your budget! And I know other ethical shopping sites do this too. We are passionate about this topic and we know your "wanted item" is out there :).
Flash Sale Sites
Flash sale sites are really great in giving you bargains for a limited time and saving you lots of money. Examples of fashion flash sale sites include: HauteLook, Gilt Group, and Ideeli or more general flash sites like Groupon, Lifebooker, and LivingSocial.
Well, there are also flash sale sites just dedicated to ethical brands! These sites are great ways for you to save money and also try out ethical brands at a discount. I've shopped at all of the below and have been nothing but happy with their services.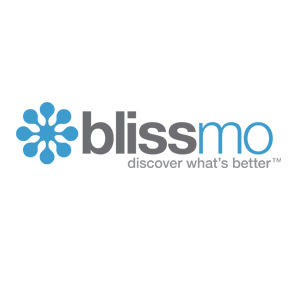 There are other flash sites like FAB while they don't exclusively sell ethical brands, I've bought wonderful fair trade items and drooled over their Vintage Mondays. OpenSky also has conscious consumer curators like Alicia Silverstone and EcoStilleto that share ethical products in most cases at discounted rates.
Shopping in Real Life
There are plenty of mainstream stores that carry ethical clothing! Everything from the big retailers like Macy's, Bloomingdales and Nordstroms to the discount retailers like Loehman's, Marshalls, and TJ Max all carry brands that are ethical. Even your local drugstore has great ethical products! I only buy ethically made beauty and bath products that are cruelty free and I buy the MAJORITY of them at my local CVS or DuaneReade.
Now that you know all this good stuff is everywhere, here are some tips on how to identify them!
READ YOUR LABELS!

– The label will tell you where the item is made and what the item is made of. Because being conscious is more in vogue than ever (which is awesome) there are also a lot of brands who use marketing and packaging tricks-so it's more important to read the label!
What to look for in labels…

Eco-Conscious and vegan shoppers-look for natural fabrics like: tencel, bamboo, organic cotton, hemp, there are even polyesters made of recycled bottles now! Here is a great list of eco frabrics to be on the watch for if you want to go greener and natural.
If you're concerned about production practices-check where something is made, does it say it was ethically made? Is it fair trade? Made in the USA or other western countries? Do you know this brand to have any questionable practices when it comes to their production?
USE THAT SMART PHONE!

-Technology is GREAT! If you're reading this chances are you can google from everywhere! Lookup brands and labels, see what's been said about their practices. There are even great apps where you can scan items and get their ethical report card of sorts…here's a great list of ethical shopping apps for your Iphone or Android!
And when in doubt friends, THRIFT! Go to your local thrift shop or consignment shop and see what they have! Seriously I find more going thrifting than shopping at any department store! Or have a clothing swap with your friends!! Swaps are one of my favorite things around! You get rid of unwanted things PLUS get all new things for free :).
Getting Over Challenges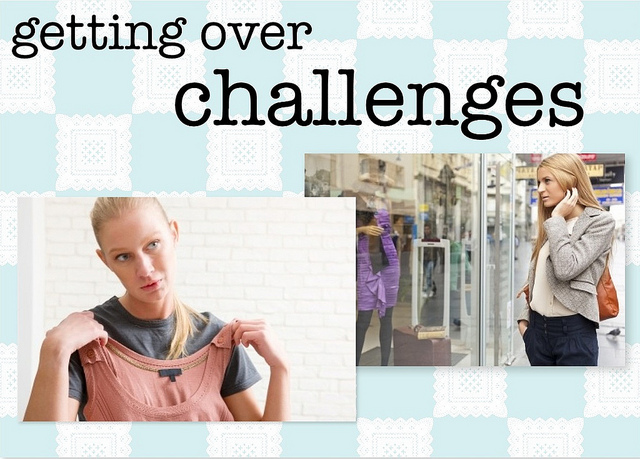 (woman w/ top courtesy of Ambro at FreeDigitalPhotos.net/ woman window shopping courtesy of adamr at FreeDigitalPhotos.net)
In your quest to be a more conscious shopper you will be ASTOUNDED by how many brands have questionable practices (including higher end) and you will definitely find things you're attracted to that don't meet the standards you've set for yourself and this friends can be disappointing and it can be a challenging feeling.
So here are some tips on getting over those challenges.
Stop for one second and think

– We are people accustomed to quick gratification and stores who rely on unethical practices also

rely on us

to not think. So take one second to think about the item and where it came from and then make your decision.
Ask yourself do you NEED it?

-I have to tell you unless it's a band-aid and you're bleeding  or you happen to be standing in a store naked and your house burned down-the answer is probably no. Do you really neeeeeed another blouse? Or that neon skirt that you saw on sale? Do you need these things? Probably not.
Walk away and write it down

-I am a crazy lover of shopping- ALL OF IT! I LOVE IT! And I read tons of blogs and magazines that use items in their articles that are from places I would never shop because of their practices. I write it down to look for else where—and hand on heart I have yet to be disappointed. It takes a little bit more time but I always manage to find the item I'm looking for ethically.
The Super Duper Benefits of Shopping Ethically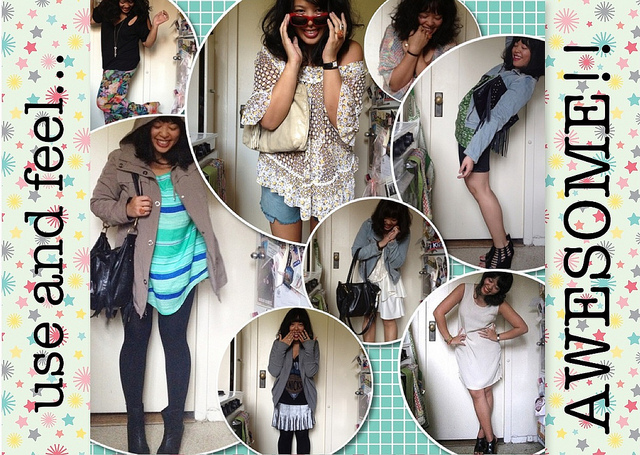 (all the above outfits are either all ethical or majority ethical pieces :D-check out what i wore and consciously trending)
So I've been shopping ethically for about 3 years, constantly adding things on my list and subtracting and trying to be more thoughtful and there are some super duper benefits to shopping ethically!
You will feel great about what you own!-You know where it's from, you know that it is meeting your standards and your values=YOU FEEL GREAT.
You SAVE money. I swear!

– Yes ethically made clothes will be pricier than the H&M's of the world, BUT(!) because you are being more thoughtful and not giving into those impulse buys, you spend half as much. Becoming a thoughtful and conscious shopper and taking that second to think before you buy really does help your bottom dollar!
You will be supporting things you value!

-Whether you are shopping eco-friendly, fair trade, thrift shopping, locally made, or vegan, you're investing your dollar in something that you stand behind just by buying things you actually want! For example, it's pretty awesome that my favorite scarf is made ethically by a company that works with families in Nepal. I LOVE the scarf and wear it all the time and it benefits more than just me :).
So that is all friends!!! Ethical Shopping 101 has come to an end! If you're just starting to think about becoming a conscious shopper I hope this has been helpful!
I get comments all the time that readers think my ethical shopping practices are great but they could never do it! And friends, that is simply not true.
You just have to fall into the habits of being a more thoughtful consumer :).