Voilá friends! The first installment of Fall Into Good Habits– "Eat Your Veggies"!
I am so so happy to introduce you to one of my most favorite people on the internet and the root of Fall Into Good Habits my dear friend Jenn, the wonderful writer of my favorite food blog-Peas & Crayons!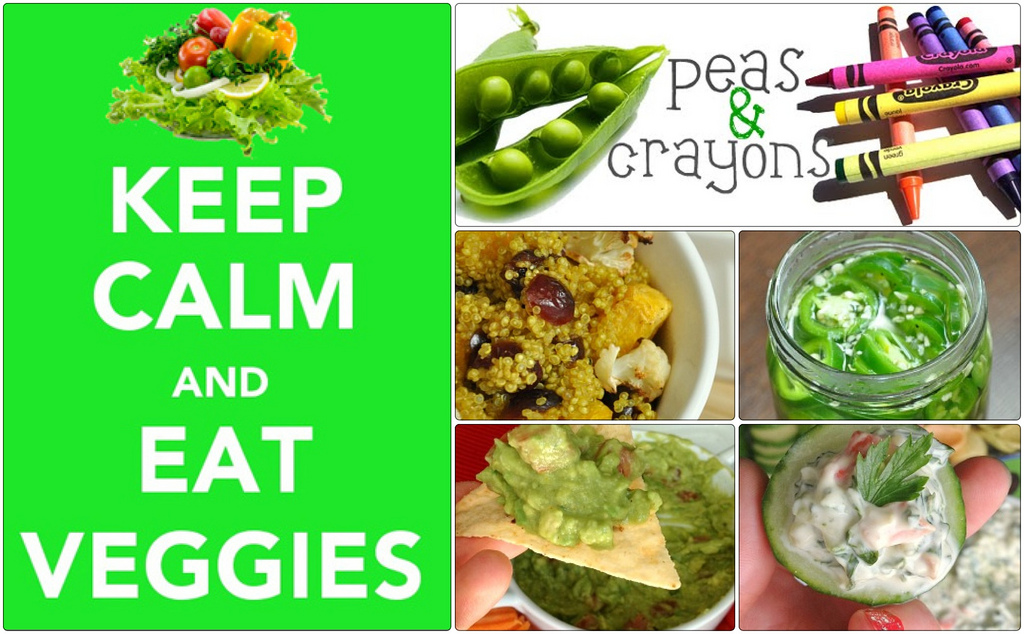 (above posts: keep calm and eat veggies; cranberry curry quinoa w/ roasted veggies; fridge pickled curry jalapeños; rock out w/ your guac out; spinach dip w/ extra veggies)
What I love so much about Peas & Crayons is that Jenn makes eating your veggies seem so simple, accessible and full of delicious fun. She is also a true true GEM of a person and her "What I Ate Wednesday: Fall Into Good Habits" is what inspired my series for this fall.
Jenn kindly let me ask her some questions about food things and I love her more for it!  So please welcome the gorgeous, hilarious, wonderful Jenn!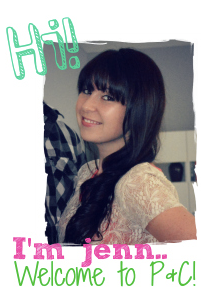 What common misconceptions do you think there are with eating better?
I think we all worry that it's not only expensive, but time-consuming!  It can be a little more costly when you're first stocking up your pantry with healthy staples, but after that it is ultra affordable!
Produce can be picked up on sale at the grocery store [seasonal is cheapest!] and for even less money at local farmers markets!  Growing an at-home herb garden will save you from buying pricey herbs at the store [and these wont go bad!] and so forth!
As for the time consuming aspect, prepping meals and ingredients for a few hours on the weekend can save you hours during the week!  Pick a day to chop all your fruit and veggies and portion them in re-usable containers in your fridge [and freezer!] so that healthy snacks like celery and carrot slices and fresh fruit are just as convenient as potato chips and pretzels!
If it's easy, you'll gravitate towards it, so make the healthy foods the easy ones!  I love blogging about this topic and do it often =).  I basically live to get you to eat your veggies. So do it!  <3
What tips can you give to people just starting to learn to eat their veggies?
Stick with what you know you love!
If you prefer them raw to cooked–eat them that way! Pair raw veggies with dressings and sauces that have heart healthy ingredients. If you prefer them cooked-then don't force a raw carrot on yourself! Steam, roast, and blanch them and pair them with your favorites. Even if it means adding some cheese to the mix! The fats in cheese and oils actually help us breakdown and absorb the antioxidants in veggies, so if you're a veggie hater that wants to love veggies–don't be afraid! Pair them with fats to get you started.
And make goals and aim to add one new veggie to your meal rotation each week! This way you won't get overwhelmed and nothing will go to waste.
Know any good 20 minute recipes?!?!
A lot of my recipes on my Peas page only take 20 minutes!!!! Veggies are amazing like that–they don't require all the extra cooking time that meats and sweets typically do!
My favorite fast meal is to microwave a large sweet potato and stuff it with all the ingredients you'd add to tacos or nachos; black beans, melted cheddar cheese, fresh guac, salsa, Greek yogurt, and lots of jalapeños, and tomatoes! It's sweet, savory, and super speedy!
(author's note! jenn's totally telling the truth! her recipes are quick and easy! also i've personally made this stuffed sweet potato situation several times now and it is FANTASTIC!)
What is your favorite recipe of all time?
Just one? Ahhhh!!!! Ok I'm going to cheat and give you two :).
My favorite veg-loaded recipe is my Mexican Pizza Lasagna and my favorite comfort foodie, ooey, gooey, cheesy recipe is my Creamy Tomato Soup with Baked Mozzarella Balls.
So there you have it! Fall Into Good Habits-Eat Your Veggies! Next week will be doing Ethical Shopping 101, so stay tuned!
Big big big thank you and smooch to the wonderful Jenn for answering my questions. Love you like it's my J-O-B  😛 .
Visit Jenn at Peas & Crayons and follow her on twitter HERE and pinterest HERE.