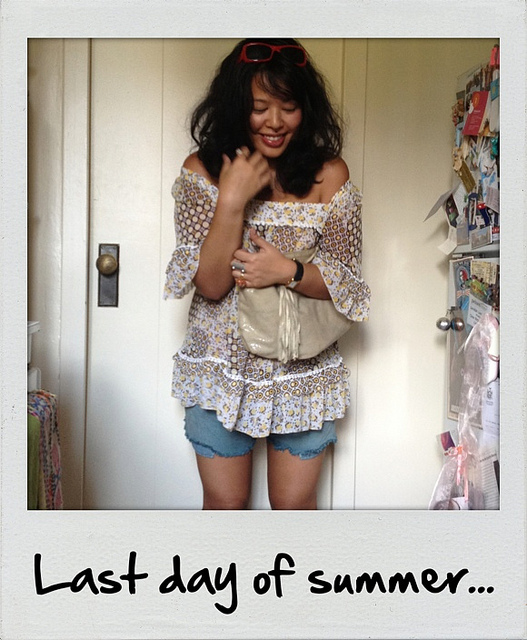 Eep! It has actually felt like summer's last days for about 2 weeks here in NY. While the summer brings sweltering heat I still miss it when it leaves. If you live in this beautiful city you know that NY has very different personalities with the seasons and summer's personality to me is definitely relaxed like the city is taking a deep exhale. It's just too hot to walk super fast, the city empties out on the weekends and all the lawns are open to sun bathing city dwellers. It's pretty great.
I wore this outfit for a brunch date with my dude a couple of weeks ago. Mmmmm, brunch another lovely thing about summer. There are few things better to me than a warm weekend afternoon with mimosas. I mean brunch exists all year round (thank goodness!) but summer brunch is seeing people in shorts, lazying around in flip flops and drinking  champagne…it all feels very relaxed to me. Like we're all on vacation :).
(sunnies-alain mikli; blouse-swapped via closetdash; clutch-thrifted ( a million years ago); shorts-current/elliott; sandals-thrifted via buffalo exchange; silver ring-Nissa Dakota Octagon Ring via opensky seen here)
Now friends, I do really love the fall, for very different reasons. One, I'm a sucker for the trees turning color and two, I love how autumn feels very crisp and new! I have fun things planned for you guys this coming fall so get excited!
On that note, farewell summer!!!! Till next year :).