Oy vey friends! I told you I was in my friend's wedding a couple of weeks ago (here). One of the requirements for my bridesmaid attire was silver shoes which I did not have.  I wanted to buy them ethically but I was in a pinch because of course I procrastinated and made myself a tight deadline.
Well, I hit my local thrift stores and found way more than what I was looking for…eep!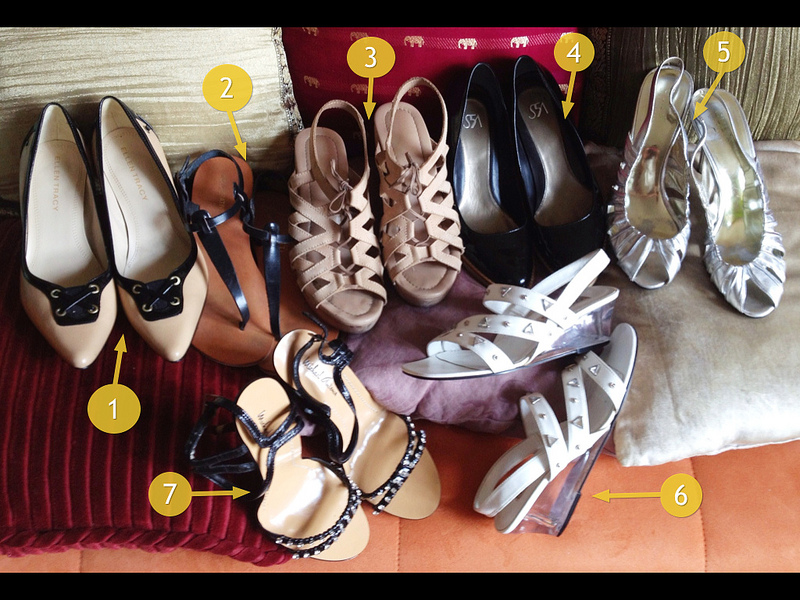 You can see the actual reason for my thrifting excursion in the silver shoes on the far right. But honestly all these shoes were on my wish list for summer so I could not leave them behind. I just could not!!!
From left to right:
Classic pump with an edge
Everyday black flats that will match everything
Sandals I can wear to work that have height
Plain black pumps (I own a pair that is way too high for day time)
Silver shoes for my bridesmaid duties
Dressy black sandals for a wedding
Clear heeled shoes
Truly these shoes were on my list and some have been there for a long while. Actually I was feeling a tad guilty for buying so many shoes in one haul until I took these pictures. I totally have worn each and every pair…some several times now and it's only been a month! And I spent just over $100 on all 7 pairs…which I shouldn't feel bad about at all!
So friends, be sure to check your local thrift stores before heading to that department store!!! Who knows what you will find :).