So friends, I told you about my deep affection for the ASOS Africa collection here (well and here and here too) and how my favorite dress in the collection sold out in just 2 short weeks.
But(!) thank you 2012 because I tweeted the folks at SOKO Kenya, the fair trade cooperative where the ASOS Africa collection is made (you can read about them here) and was disappointed to hear that they weren't making more of my dress :(. However the folks at SOKO gave me advice- keep an eye out for returns…and I did…and it happened!!! Ahemmm…making me a WINNER!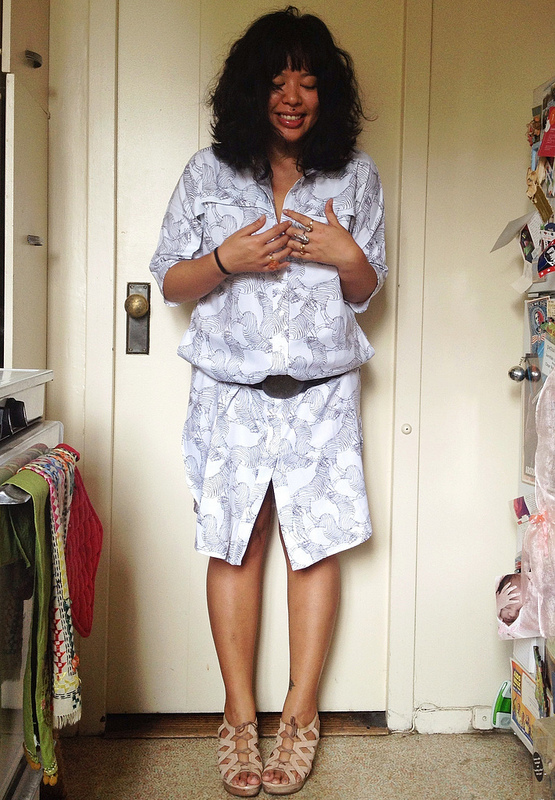 Oh, I am just in love with this dress. The zebra print and little shirt flap is so safari, but the pattern although fun is also modern to me and the cut super classic. I had such deep trigger shy remorse over it!  I'm so happy that I listened to the fab peeps at SOKO if it wasn't for them I wouldn't have my dress.
Honestly I was going to just wallow in what was; silly me. Tip of the week- NEVER GIVE UP! Also, ASOS apparently has really sharp inventory control! Keep an eye out for the pieces you've missed…someone will return it and then it can be yours!
(dress-asos africa; belt-gifted; shoes-thrifted via buffalo exchange; jacket-so so so old; bag-omybag via boticca; jewelry-gifted and made her think)
The dress is actually mid-length but I typically prefer a short hemline so I belted it with a great hand-me-down from my dude's sister :). But for your reference my friends, here is the dress as it appears on the model.
The dress is still available in a few new sizes fyi 😉 Just sayin'; I don't mind if we're samesies!
So friends have you ever had trigger-shy remorse? I know I have! But I'm just thrilled this lovely ended up in my closet.