What I Wore-Wedding Guest
So the weekend after I got back from my vacay I had to hop on a plane to Buffalo, NY for a friend's wedding. The wedding ceremony was at 1pm but the reception (partaaaaay!) wasn't till 6:30 in the evening.
Now funny story about this dress. In the frenzy of unpacking and repacking my 1 suitcase in the same week, it completely slipped my mind that I should bring 2 dresses with such a large gap of time between ceremony and reception.
Since I've committed to shopping ethically  I thought I was in a bind. But I firmly decided I would find an ethical option in Buffalo and I did.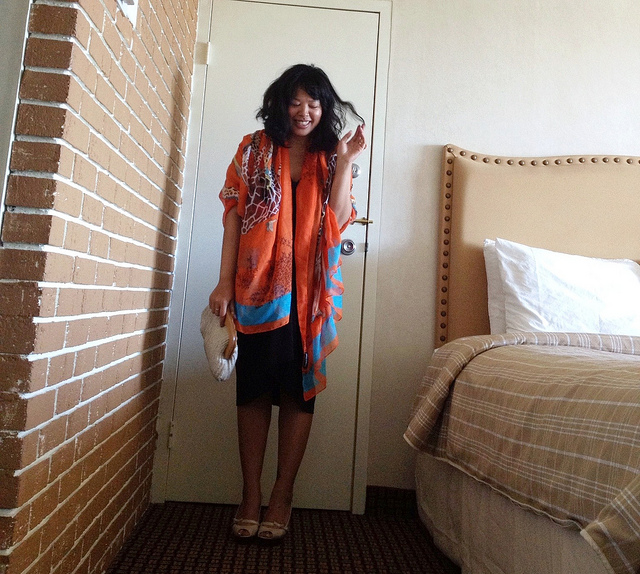 (dress from-burlington coat factory; scarf- c/o happyscarf-available here; ring-gift see post here; purse-thrifted)
The only stores around the hotel were big box stores! The small independent shops and thrift stores of my familiar hood were far from what was available to me in Buffalo.
So I did what I thought was safest and scoured the chains for dresses made in the USA, Canada, or European countries. When push comes to shove bottom line is I don't want to purchase anything that harms people and while there are sweatshops right here in western countries it is a less common manufacturing practice because of more rigid, regulated, and monitored labor laws.
This black dress I found in the plus-sized section of Burlington Coat Factory with the tag "PROUDLY MADE IN THE U.S.A"; I took it to the dressing room and knotted the excess fabric in the front and thought, "hmmm pretty cute" and then I saw it was on sale for $20- done I was sold

.
The dress I had safely packed and wore later to the reception is what I like to call "old faithful". While I totally think you should have a LBD, I also think you should have one dress that is bit more unique that you can completely turn to for any occasion; this dress from local designer meg is that dress for me.
I bought this dress about 3 years ago and have worn it to: 3 weddings, 2 award ceremonies, 3 bridal showers and a handful of other special occasions. It is a dress that I invested in and have never regretted because every time I put it on I feel like it's the right dress…it's kind of amazing that way. I hope you have a dress like that too in your arsenal

.
So friends, the lesson of this post is read the labels! There is ethical clothing out there and all it takes is 10 seconds to read a label to see where your garment was made.
PS-You'll have to excuse me laughing in this picture; my brother was in the room and he couldn't resist poking fun at my photo shoot situation. Also I was madly late for the reception due to a much needed nap I took and only had time for the one pic…so glad it looked okay!
PPS-This was my mani for the wedding

.
PPPS-Lookie at my aunt's cutie mani

. Teee heee, I am influencing my family to get fun manis!!!

.