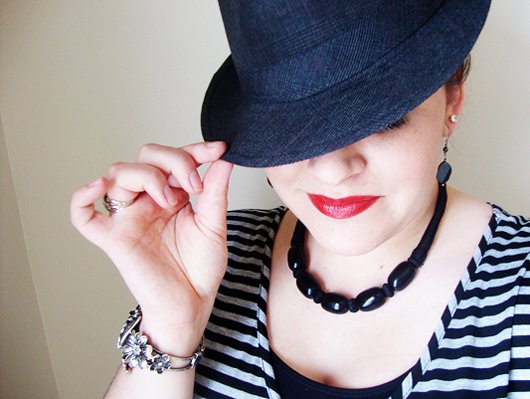 Hello, made-to-travel readers! I'm Casee Marie, the voice behind
The Girl Who Stole the Eiffel Tower
(fashion/beauty/everything blog) and
Literary Inklings
(could you guess? – a literature blog). I was beyond thrilled when Jamillah contacted me with the invitation to contribute a guest post to her beloved made-to-travel while she's off celebrating her b-day in true fashion blogger style!
One of my favorite things about made-to-travel (besides its gorgeous author) is the do-goodness and sheer joy that radiates through my computer screen every time I visit. This is truly a blog of substance, and as such I wanted my contribution to reflect that in some way.
Last October I had the pleasure of covering a very special event: the Silhouette of a Woman fashion show in Poughkeepsie (New York), which benefited the Miles of Hope Breast Cancer Foundation.
When I originally wrote about the fashion show last fall Jamillah shared in a comment the reasons why the event was relevant and special to her: not only are her aunt ("who is like my second mama," she said) and cousin survivors, but her aunt worked with the Look Good…Feel Better program to receive a wig.
Knowing how special this event was to me, and likewise how much it resonated with Jamillah, I wanted to take my guest posting opportunity as a chance to give you all a glimpse inside the fashion show…
It was an event near to me because my aunt was one of the women who made it possible. She put many hours of effort into the planning stages, as did several other business involved, and she contributed to the runway show along with her hair design team. In addition to owning and operating her own business, Cartier's Hair Design (soon to be Cartier's Salon with a new location and website next month – majorly excited for her!), my aunt Jennifer also works and volunteers to help aid cancer patients through the American Cancer Society's Look Good…Feel Better program.
Her efforts go toward helping women to retain their confidence and happiness by providing wigs and promoting inner-beauty through whatever our outer circumstances may be. The same message was felt in the Silhouette of a Woman fashion show.
As you can see from some of the pictures I snapped, the Silhouette of a Woman fashion show was a marvelous success. The event, which was held at Poughkeepsie's historic Bardavon Opera House, was comprised entirely of fashion and beauty by local businesses and the majority of models were cancer survivors. It was a beautiful way to promote beauty, inspire hope and evoke a sense of community all at the same time. The businesses and models collaborated to create several "scenes" in the show, each with a unique theme and presentation. One of the cutest scenes (above two) was put together by a well-known local jeweler, Zimmer Brothers, in which the women walked (and danced) to "Diamonds are a Girl's Best Friend". I adored their enthusiasm so much!
At the end of the event the cancer survivors were each recognized with applause, first among the models and then within the audience. It was such a touching moment, and I think it elevated the feeling of empowerment and support among women that the event had evoked from the beginning. There was such a powerful camaraderie among the women present as well as a strong, lasting feeling of hope that took a place inside my heart and has been at home there ever since.
With the event having been such a joy and success, the women behind Silhouette of a Woman have begun planning another show for this fall (and this time we're definitely going to try to get Jamillah's aunt in the mix!). If you want to follow along and be kept up to date on the details of the second event feel free to head over to Facebook and "Like" their page! If you aren't on Facebook feel free to send me a note and I'll happily e-mail you when I have a bit more information.
Thanks for letting me share with you all!