Hello dears, it's Madison (Lady of Fashion) from Fashion Tales. I am elated to be guest posting over here for the lovely Jamillah during her relaxing holiday. She's one passionate lady with an eco-heart and sincere desire for helping others. She's also become a genuinely close friend of mine in the blogsphere. 
Traveling is something that I've done since I was an infant really and, by getting older, I've certainly developed my own tips and tricks when on-the-go. However, this time I wanted to share with you a few different sustainable items: for the traveling writer, the woodsy enthusiast, and even the tech-loving jet-setter. Whether it be for your flight hustle or a camping excursion, here's a few essentials that may help.
Of course, to start you'll need some great luggage and carry-on bags that will fit your style. Since there's such a vast selection to choose from, it's very easy to find the right size for your destination needs. Here are my top eco-choices from luggage.com.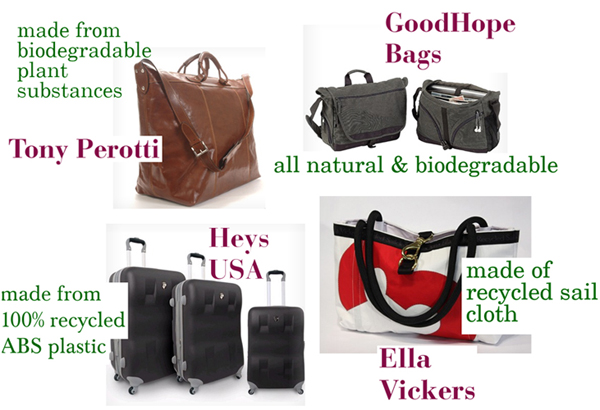 Images: source, edited by ladyofashion
This Ventus eco-lantern gives quality lighting by winding it fully to use as a generator. It's rechargeable and perfect for camping or when you quickly need an emergency light. The Ventus provides 4 hours of constant 5-LED light or 48 hours of low-powered lighting.
Green Timing: With a product like the Bedol water-powered alarm clock, it's hard not to want to try it! These have been around for some time, but it's proven to be a great item to pack! I was sold on it a while back, especially since it's affordable. This environmentally savvy clock is excellent for traveling. There's no batteries necessary! It has a built-in memory chip and merely runs off of natural tap water for 8 to 12 weeks.
(Source)
Great ideas are not always penciled in by finger taps on your mobile. Often, a visual sketch and instant place to hold those tear sheets or favourite wines labels that you loved on your adventures may come in handy later on. I generally take a notebook with me just in case! Ecojot has a wide selection of notebooks, (from inspiring prints to styles made from wheat and straw) that are small enough to fit in your carryall.
Images: source, edited by ladyofashion
Ecojot is also one of my favourites because of their Give programme, which promotes literacy and education. By merely purchasing a jumbo journal, they provide workbooks and supplies to children in developing countries.
Don't worry the little ones are not forgotten! This fabric Sack 'n' Seat from Ethical Babe provides parents with an instant high chair for their children. It's comes folded in a carry bag both packable and portable!
 Solar Love: Have you ever forgotten your batteries during travelling or wondered if you could charge your Mp3 on the beach? The brilliant Solio Bolt charger allows you to power up your mobile or any portable device that's in need of a power punch by three ways, but most importantly by the sun. You don't even have to own an iphone because it works for your blackberry as well as other devices.
Comfortable clothing: For me, an essential part of travelling is what clothing I wear. You can still achieve your style and sophistication with easy-to-wear apparel. When there's moments that you're able to appear more casual than normal, comfort is key for allowing your body to enjoy a relaxing destination. SkunkFunk uses eco-thinking to provide comfortable feel-good garments that's packable and fashionable. You'll be ready and looking great in your breathable threads in no time.
Images: source, edited by ladyofashion
I hope you've enjoyed these not-so-typical essentials for the green minded traveler.
————————————————————————————————————————————————–