Berried color lips is something that has been on my wish list since crisp autumn has come to New York and I've found my perfect touch of berry in a Moisturizing Lipstick in Berry Jam by a wonderful and unique cosmetic line radiant cosmetics.
What makes radiant cosmetics unique is their company's mission:
"Our mission is the help garner awareness for human trafficking by raising funds through cosmetics, to provide resources for those on the forefront of change as well as victims of trafficking."
Definitely a mission I can get behind. I contacted founder Nicole Marett to find out a bit more on what was behind radiant cosmetics.
What was your aha moment for creating radiant cosmetics?
Nicole: I was living overseas at the time and spent a month in Thailand partnering with an organization that did work in the Red Light District in Phuket. I spent the month working with women who were victims of sex trafficking and/or commercial sex trade (which feeds into human trafficking). I remember being in the bars speaking with the women and feeling so
helpless at first.
One of the last nights we were there I met a woman who spoke very little English but we sat down to try and talk with her. I noticed she had these cool stars on her hand. Thinking it was a tattoo, I told her I liked them and she asked if I wanted some. Confused, I soon realized she had drawn these on her hand with liquid eyeliner. For the next hour, she sat and drew stars on my hand and the hands of my friends. It seemed that something as simple as eyeliner transcended a language barrier and we were simply women laughing and enjoying each other's company.
That particular moment really solidified the power of this dream and what it could mean to women all around the world.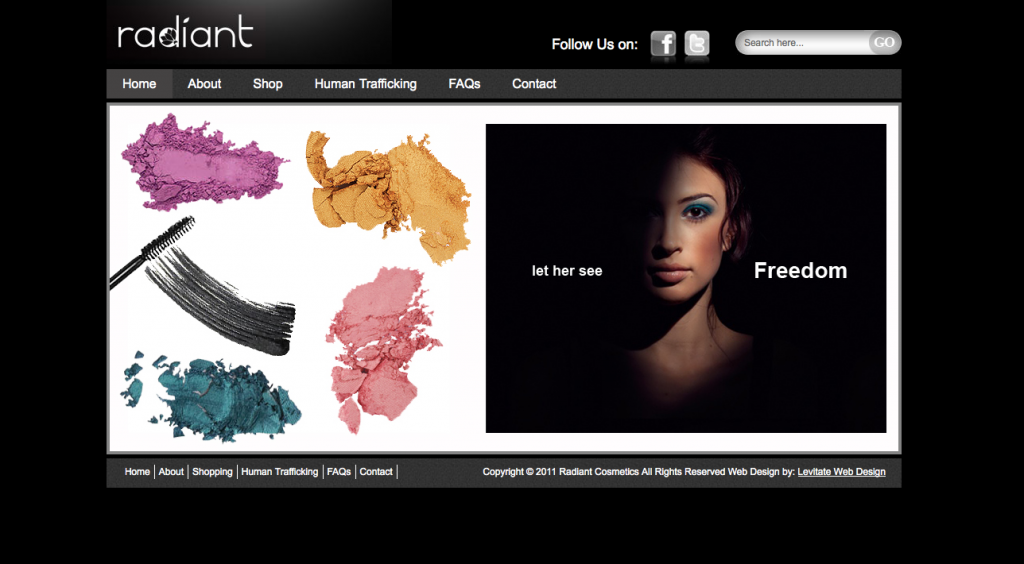 Why choose makeup as your means to make change?
Nicole: I chose makeup as a means to change for several reasons. First being, i grew up enamored with makeup. I dreamt of becoming a beauty editor at a fashion magazine and would spend hours recreating looks I'd seen in magazines and collectiong way too many eye shados.
While I have a personal passion for cosmetics, I believe beauty is often viewed as a shallow industry. That this industry exists to tell women they need to change things about themsleves. I love the "beauty" found in giving selflessly to others. The idea that a beauty company seeks to find the beauty in this world and in its customers speaks volumes the power we as women hold. There is something unique about getting a group of women together over the common theme of makeup. I can't tell you the countless deep conversations I've had with women simply over me applying eye makeup or lipstick on them. This "group" aspect of cosmetics seems overlooked. So for me choosing makeup is choosing a powerful medium.
Last but not least 80% of trafficked people are women and children. The beauty industry is comprised of women, essentially women helping other women.
At least 20% of each purchase goes to Free the Captives-tell us about them and why you chose this organization?
Nicole: Free the Captives is an incredible anti-trafficking organization based in Houston, Texas. While my first exposure to human trafficking happened overseas most people are shocked to discover that it happens in big numbers here in the United States as well. I wanted my customers to be able to relate to something that hits close to home. Houston is a huge hub for human trafficking. I began researching anti-trafficking efforts and who could partner with and had conversations with several different organizations but really felt something different with Free The Captives. The founder has an infectious passion to see the end of slavery and just talking with her you catch her vision.
I love that they are on all sides of ending human trafficking. Not only do they work to pursue legal remedies (the founder is a lawyer) but they are very involved in the Houston community in making people aware through education programs and work on to prevent and intervene with at risk individuals. Not only are they reducing the demand but really working toward ending the root of the problem.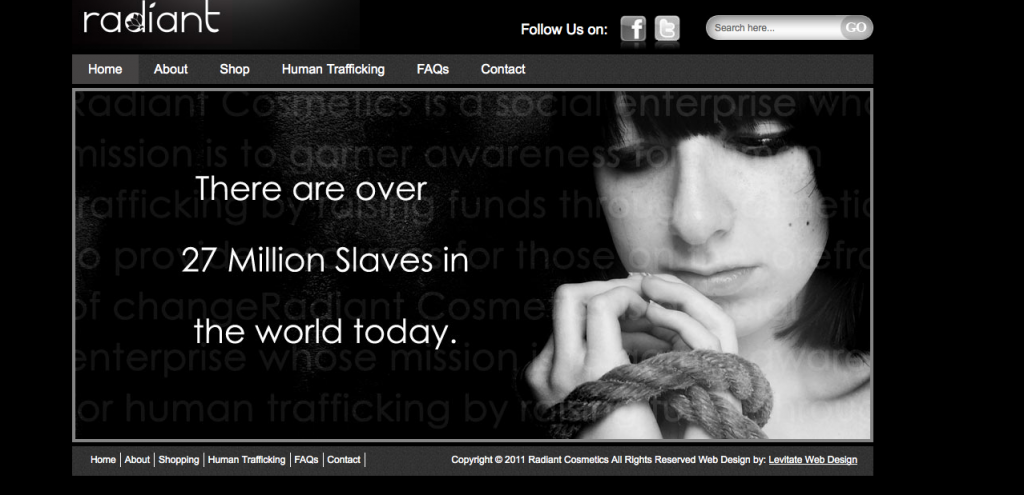 What do you consider your biggest success?
Nicole: I think my biggest success has simply been raising awareness about human trafficking. While the makeup is obviously an integral part of what I do, for me the vision behind it is what really makes me tick. I love getting to speak with others about it and to see so many women interested in the cause I consider a success.
Because of my customers I'm able to write a check each month to Free The Captives and it's just such a cool thing to be able to do for an organization I believe in so much.
What's next for Radiant Cosmetics? What are your plans for future products?
Nicole: There is some exciting projects coming up for Radiant. The first being a collaboration with an anti-trafficking organization overseas this December. I can't give tons of details yet, but we're so excited about this opportunity. We feel it's a great way to really connect our customers with the issue in a neat way, so definitely look for that coming at the beginning of next year.
As far as products, we are currently working on a fun eyeshadow collection to possibly release with our collaborative project that would be a great addition to the line. We also would love to do a brush collection in the future.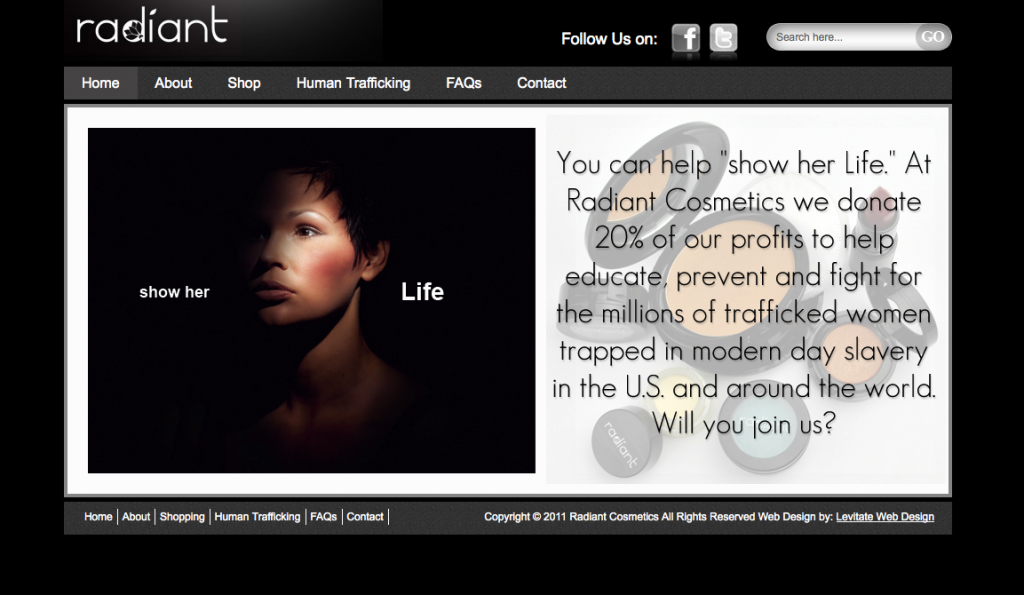 So friends of CFP what do you think? I feel radiant cosmetics really has an ambitious and worthy cause. And I am simply in love with their moisturizing lipstick annnnnd at $16 bucks for my new fave lipstick – a totally comparable price to mainstream cosmetics- I get the added bonus of helping a fantastic cause like Free the Slaves.
Purchases like this make me feel great and very aware of where my dollar is going and I think that in the world of options we live in it's a priceless gift.
Stalk(!) radiant cosmetics on facebook, twitter, and shop their website.