Last night was the DMD Fashion Show thrown by the fantastic people at Goodwill Industries NY/NJ and the New York City Mayor's Office for People with Disabilities. I had the BEST TIME EVER, definitely a banner event that I've experienced in blogging.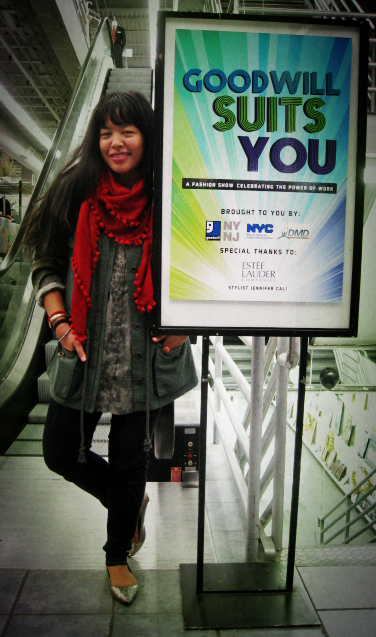 (vest-rachel roy; shirt-Calvin Klein thrifted at goodwill; jeans-uniqlo; shoes-payless; scarf-goodwill)
(notice the escalators! 3 floors of goodwill!)
In case you missed my post last week on the DMD Fashion Show, I was one of a handful of bloggers asked to style models with visible and non-visible disabilities in work appropriate attire in honor of Disability Mentoring Day and National Disability Employment Awareness Month.
I will have so much more for you on the event but while I wait for pictures I wanted to introduce you to my fantastic models before I share how I styled them.
L-R: PATSY, FELICIA, & ATHENA
When I say Patsy, Felicia, and Athena are absolute gems it is an understatement.  My 3 models are super joyful people, hilarious(!), and were feeling like celebrities at the DMD Fashion Show last night in Goodwill East Harlem. It made me so happy to see them strut their stuff!
Come back soon to see how I styled them!!
The above picture is Manager at Goodwill East Harlem store Gidget and me. LOVE HER! Not only did Gidget and her team make an exceptional space for the DMD Fashion Show, but she was so excited and passionate about the event.
Can't wait to share more on the event! I had a really great time styling and am so grateful I had the opportunity to be a part of honoring National Disability Employment Awareness month.
If you'd like to see the press release for the event you can go HERE! It is kind of amazing how fashion can do so much good.